NLIHC Introduces "United for Homes MIDWeek" E-Newsletter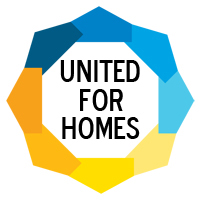 The United for Homes (UFH) campaign is committed to keeping its supporters apprised of new tax reform legislation, resources, and tools to build support around the need for smart tax reform. With modest reforms to tax write-offs such as the mortgage interest deduction (MID), Congress can generate billions in savings that can be reinvested in targeted rental housing programs–like the national Housing Trust Fund and rental assistance–that serve people with the greatest needs.
As part of this effort, the UFH campaign will launch a new weekly e-newsletter, "United for Homes MIDWeek," on Wednesday, May 10. United for Homes MIDWeek will provide brief advocacy and news updates on the need to reform the MID and invest the savings into affordable housing solutions. Tax reform is a hot topic in the Republican-led Congress and Administration, and the need to reform the MID is gaining support on both sides of the aisle. This increased focus on tax and MID reform is increasingly fodder for social media and the news. NLIHC's new UFH MIDWeek e-newsletter will capture the latest news for the week and dispense it in an easily digestible format for reviewing on your smart device and for sharing on social media.
The MIDWeek e-newsletter will be available to all UFH campaign endorsers and others who sign-up to receive the newsletter. If you have not already, we encourage you to sign-up through the UFH website. Add your email to the "Newsletter Sign-Up" available at the bottom of each page of the website. Archived issues of the newsletter will be available on the UFH website under "News & Information."
Visit the UFH website at: www.unitedforhomes.org