NLIHC Issues 2017 Annual Report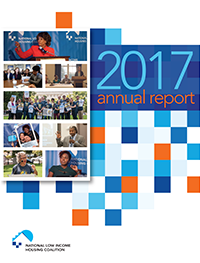 NLIHC issued its 2017 Annual Report on September 6.  The report features NLIHC's year of movement-building and responding to disasters and threats, both natural and political. Print-ready and interactive versions of the report are available at: https://bit.ly/2wL6Lgr
The year-in-review showcases NLIHC's:
Leadership of the first-ever Our Homes, Our Voices National Housing Week of Action with more than 60 events and activities in 25 states around the country.
Launch of a new "Our Homes, Our Votes" nonpartisan voter registration and mobilization project to engage more low income renters and affordable housing advocates in the electoral process.
Response to the 2017 hurricanes and wildfires and its establishment of the Disaster Housing Recovery Coalition (DHRC) of more than 700 national and local organizations collaborating to improve the federal disaster recovery response.
2017 Housing Policy Forum on advancing solutions in the changing political landscape at which HUD Secretary Ben Carson, U.S. Representative Maxine Waters, and many affordable housing experts, advocates, practitioners, and resident-leaders engaged with the forum's hundreds of attendees.
Media engagement efforts, resulting in more than 3,500 news stories (print, online, radio, and television) relying on NLIHC's expertise and citing our research publications, Out of Reach and The Gap: A Shortage of Affordable Homes.
Continued support of NLIHC's 62 state partners around the country and leadership of important national advocacy coalitions like the Campaign for Housing and Community Development, the national Housing Trust Fund (HTF) Policy Committee, and the Housing and Criminal Justice Reform Task Force.
Policy victories with our partners and allies, like thwarting the administration's efforts to slash federal funding to affordable housing programs and protecting the HTF and the Low Income Housing Tax Credit program from serious threats to both programs.
And much more.
"This past year proved once again the power of NLIHC's phenomenally dedicated partners, members, and donors," states NLIHC President and CEO Diane Yentel in the introduction to the report. "Together, we can achieve socially just public policies that ensure the lowest income people in the U.S. have decent, affordable homes. Together, we can end homelessness and housing poverty in America."
Read the full report at: at: https://bit.ly/2wL6Lgr