NLIHC's Out of Reach 2016 Gets Major Media Coverage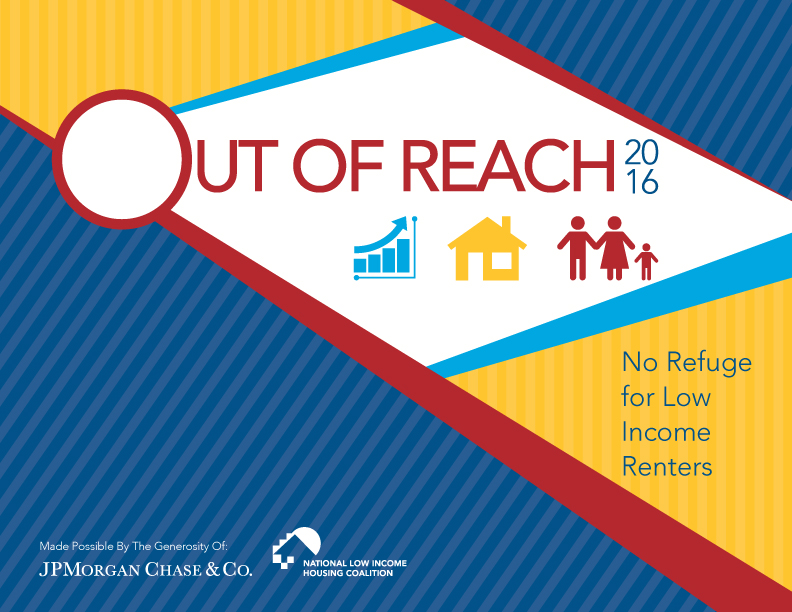 NLIHC's Out of Reach 2016 report has received major media coverage since its release on May 25, being cited in more than 100 news stories in the national and local media in just over a week. Reporters have used Out of Reach statistics, maps, charts and graphs in their stories about the gap between the cost of rents and renter wages across the nation. Among the many national outlets publishing stories on Out of Reach were The Wall Street Journal, The Washington Post, Forbes, The Chicago Tribune, Time Magazine, The Huffington Post, City Lab, Vox and many others. NLIHC's state partners in 42 states played a major role in achieving state and local media coverage of Out of Reach 2016.
As we reported in last week's Memo (5/31), Out of Reach 2016 shows that the average renter in the U.S. earns $15.42 per hour, $4.88 per hour less than the national two-bedroom Housing Wage of $20.30 per hour and nearly $1 per hour less than the one-bedroom Housing Wage of $16.35 per hour. On average, someone earning the federal minimum wage of $7.25 would need to work 90 hours per week, or 2.3 full-time jobs, to afford a one-bedroom unit. Out of Reach 2016 shows these and other data related to rental affordability for every state, metropolitan area and county in the country.  
The interactive Out of Reach 2016 website is http://nlihc.org/oor  
The full report is available at http://bit.ly/1scAj1G  
The audio recording of the press event releasing Out of Reach 2016 with HUD Secretary Julián Castro, NLIHC President and CEO Diane Yentel, and NLIHC Vice President for Research Andrew Aurand is available at: http://bit.ly/OORhud16