Opportunity Starts at Home to Release National Policy Agenda and Host Congressional Briefing on January 24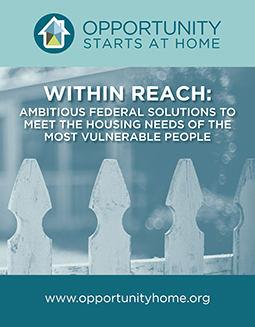 The Opportunity Starts at Home multi-sector affordable housing campaign will release on January 24 its national policy agenda report, Within Reach: Ambitious Federal Solutions to Meet the Housing Needs of the Most Vulnerable People.  The national policy agenda, built in collaboration with the campaign's multi-sector partners, outlines a broad set of short- and long-term federal policies that the new Congress should consider enacting, such as expanding rental assistance, increasing the supply of deeply affordable housing, and providing emergency financial assistance for households experiencing unforeseen economic shocks. The report also features research showing that housing is a critical driver of outcomes in many other areas of life, such as health, education, economic mobility, food security, poverty reduction.
"Opportunity Starts at Home's policy agenda is what it will take to solve the problem of housing affordability in our nation – and to end homelessness," said Nan Roman, president and CEO of the National Alliance to End Homelessness.
The campaign will host a congressional briefing at the U.S. Capitol Visitor Center in Washington DC to unveil the plan on January 24, 1:00-2:00 pm ET. Attendees will learn more about the campaign's policy priorities and hear from prominent senior leaders that have joined the campaign from a variety of sectors. Speakers include:
Diane Yentel, president and CEO, NLIHC
Clarence Anthony, CEO and executive director, National League of Cities
Jim Weill, president, Food Research & Action Center
Mary Kusler, senior director of center for advocacy, National Education Association
Allison Bovell-Ammon, deputy director of policy strategy, Children's HealthWatch
Mike Koprowski, national director, Opportunity Starts at Home
Please attend the event and help spread the event invitation to your respective networks.  To register and learn more about the briefing, see: https://bit.ly/2AwSsOo
Also, please follow the Opportunity Starts at Home multi-sector affordable housing campaign on all social media platforms to get updates on the release of the policy agenda: Twitter, Instagram, Facebook, and LinkedIn