Participate in National Voter Registration Day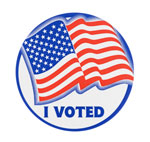 High voter turnout among low income renters and their allies will be critically important to making affordable housing a priority for both the next President and the new Congress. As Election Day approaches, NLIHC urges housing organizations to engage in voter registration and voter education efforts and to participate in National Voter Registration Day on Tuesday, September 27. This coordinated day of events involves volunteers and organizations throughout the country hosting events and canvassing neighborhoods to engage new voters and to update registration records. The event takes place before registration deadlines in any state.
National Voter Registration Day partners can receive branded posters, stickers, and other materials to promote events and recruit volunteers. The National Voter Registration Day website features a directory of all planned events so that future voters and those interested in volunteering can find nearby events. Partners should add their events to the directory. National Voter Registration Day coordinators can also provide support with communications and social media to promote local events. NLIHC is a National Partner for National Voter Registration Day.
Just 26% of renters voted in 2014, far below the 49% of homeowners who voted. The disparity in voter participation by income levels is even more striking. While 75% of people with incomes over $100,000 were registered to vote in 2014 and 53% voted, just 48% of people with incomes below $20,000 were registered, and only 26% turned out to the polls. Closing these gaps could make a significant impact toward achieving a more just distribution of federal housing resources.
NLIHC has produced materials to help advocates and residents develop their own voter engagement activities. To participate in NLIHC Voterization activities, contact NLIHC's Field Team at: outreach@nlihc.org
To participate as a National Voter Registration Day partner in your community, go to: http://www.nationalvoterregistrationday.org