Passing of Torch at NLIHC's 2016 Housing Forum April 3-6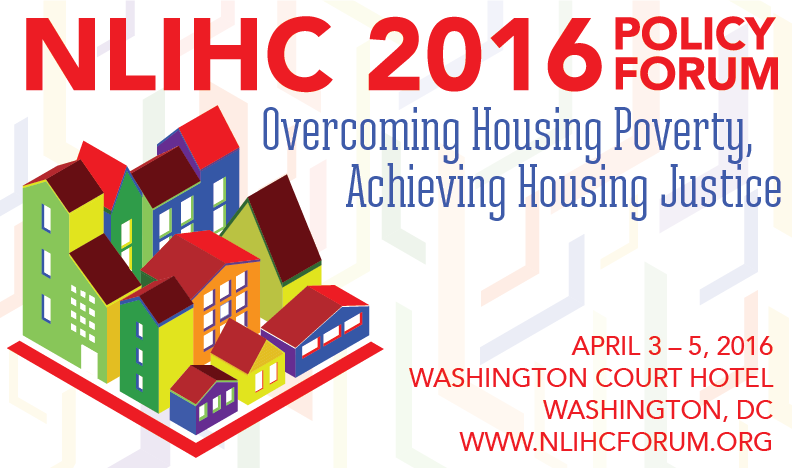 Bid a fond farewell to retiring NLIHC President and CEO Sheila Crowley and welcome the new CEO at NLIHC's 2016 Policy Forum: Overcoming Housing Poverty, Achieving Housing Justice. The NLIHC Board of Directors expects to be able to introduce the new President at the Forum
The Forum, which will take place in Washington DC on April 3-5, 2016, will bring together housing and homeless advocates and policy experts to discuss implementing the National Housing Trust Fund and Affirmatively Furthering Fair Housing, the latest research, housing in the elections and in the media, and much more.
Special Session for Low Income Residents:  This year's Forum will feature a special three hour session for low income residents that will cover Section 3, RAD, and the preservation vs. mobility debate on Sunday, April 3 from 9 am to 12 noon. If you are a low income resident who is attending the Forum, please plan on arriving no later than 9am on Sunday, April 3 to take advantage of this session!
Special Hotel Scholarships Available:  A limited number of shared-lodging hotel scholarships (covering 3-4 nights at the Washington Court Hotel) are available for NLIHC low income members who are self-paying.They will be offered on a first-come, first serve basis. Contact Renee Willis 202-662-1530 x247 or rwillis@nlihc.org.
For more information about the Forum, go to http://nlihc.org/events/forum
Registration for the Forum is available at: http://nlihc.org/events/forum/registration