Register Today for 2016 Housing Forum April 3-5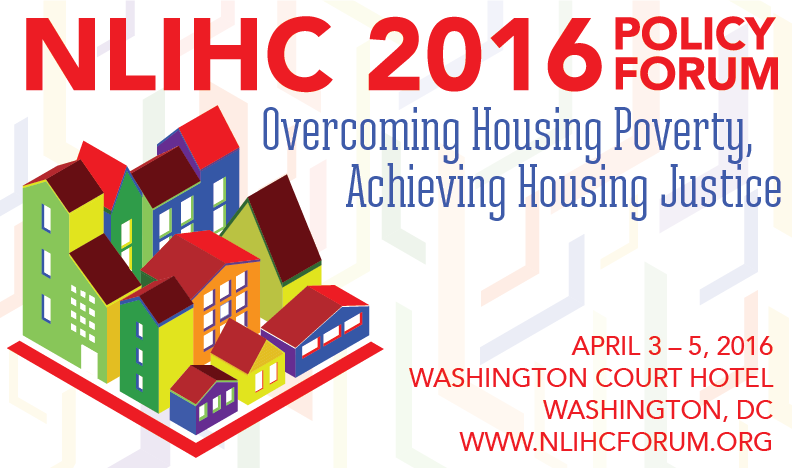 Register today for NLIHC's 2016 Policy Forum: Overcoming Housing Poverty, Achieving Housing Justice taking place in Washington D.C. on April 3-5, 2016. The Forum will convene housing and homeless advocates and policy experts to discuss preparations for implementing the National Housing Trust Fund and Affirmatively Furthering Fair Housing, housing and services for the homeless and those in extreme poverty, housing in the elections and in the media, and much more.  The Forum will also offer participants an opportunity to bid a fond farewell to retiring NLIHC President and CEO Sheila Crowley and to welcome the new NLIHC CEO. The NLIHC Board of Directors expects to be able to introduce the new NLIHC President at the Forum.
Confirmed speakers include:
Barney Frank, former U.S. Congressman, Chairman of the House Financial Services Committee, and author of Frank. A Life in Politics from the Great Society to Same-Sex Marriage;
Kathryn Edin, co-author of $2 a Day: Living on Almost Nothing in America http://hub.jhu.edu/2015/11/10/kathryn-edin-2-a-day-reading;
Mary Beth Shinn, lead researcher on the Family Options Study: Short-Term Impacts of Housing and Services Interventions for Homeless Families https://www.huduser.gov/portal/family_options_study.html;
Pamela Patenaude, President of the J. Ronald Terwilliger Foundation for Housing America's Families;
Emily Badger, Washington Post writer on housing and urban issues;
Barbara Sard, Vice President for Housing Policy, the Center for Budget and Policy Priorities;
Sharon McDonald, Director for Families and Youth, National Alliance to End Homelessness;
Nancy Rase, retired CEO, Homes for America; and
Greg Payne, Development Officer, Avesta Housing, and Director, Maine Affordable Housing Coalition.
Invited speakers include:
HUD Secretary Julián Castro and
Senator Tim Kaine (D-VA).  
Special Session for Low Income Residents:  This year's Forum will feature a special three-hour session for low income residents that will cover Section 3, RAD, and the preservation vs. mobility debate on Sunday, April 3 from 9 am to 12 noon. If you are a low income resident who is attending the Forum, please plan on arriving no later than 9am on Sunday, April 3 to take advantage of this session!
Special Hotel Scholarships Available:  A limited number of shared-lodging hotel scholarships (covering 3-4 nights at the Washington Court Hotel) are available for NLIHC low income members who are self-paying. They will be offered on a first-come, first serve basis. Contact Renee Willis 202-662-1530 x247 or rwillis@nlihc.org.
For more information about the Forum, go to http://www.nlihcforum.org/
Registration for the Forum is available at: http://www.nlihcforum.org/#!register/mainPage