Time is Running Out to Register for NLIHC's 2017 Housing Policy Forum: Advancing Solutions in a Changing Landscape, April 2-4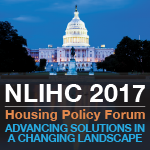 Register today for NLIHC's 2017 Housing Policy Forum: Advancing Solutions in a Changing Landscape. The forum will take place at the Washington Court Hotel, Washington, DC, April 2-4. The Forum is filling up quickly, so register as soon as possible at: http://bit.ly/2dnJpnS
The Forum will provide thought-leaders, policy experts, researchers, affordable housing advocates and practitioners, and low income residents the opportunity to discuss the expected priorities of the 115th Congress with Capitol Hill insiders; rebalancing federal housing investments through tax reform; lessons learned from the first year of implementation of the national Housing Trust Fund; building an expansive housing movement with health, education, criminal justice, and other sectors; ideas for addressing the needs in public housing; and considerations related to housing assistance programs and the potential for a new renters' tax credit. The third day of the Forum, April 4, is designed to give participants the opportunity to visit their congressional delegations on Capitol Hill. 
NLIHC has invited HUD Secretary Nominee Dr. Ben Carson to share his thoughts about America's affordable housing challenges, HUD's role in addressing them, his priorities for the future, and to hear directly from low income residents, advocates and practitioners on their questions and concerns.
A special session for low income residents will be held on Sunday, April 2 from 9 am – 1 pm.  Residents attending this session should plan on arriving on Saturday evening.
Register for the forum at: http://bit.ly/2dnJpnS