UFH Curated Wall Provides Snapshot of What People Are Saying about MID Reform on Social Media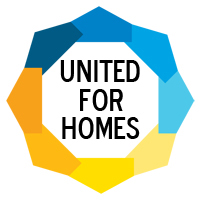 The United for Homes (UFH) website features an aggregator that captures chatter on social media related to the UFH campaign and mortgage interest deduction (MID) reform. This feature provides advocates a convenient location to quickly peruse content from multiple sources like Twitter and Facebook.
The interactive "wall" aggregates posts across Twitter and Facebook that use the UFH hashtags #SmartTaxReform, #United4Homes, and #MIDReform or that mention United for Homes. Users can share posts from this wall on Twitter, Facebook, and Google Plus by hovering over the post until the "share" icon appears and then clicking on it. They can also reply to or like a post. This social media sharing feature is also available for the articles on the UnitedforHomes.org News & Information page.
We encourage everyone to visit the UFH website, check out the social media wall on the homepage, and share and contribute content.
To help populate the site, create a post from your Twitter or Facebook account using the hashtags #SmartTaxReform, #United4Homes, #MIDReform or mention "United for Homes." Here are a few sample tweets you can use:
#United4Homes, smart proposal that will generate $Bs in savings that can be reinvested into rental housing for people w/greatest need
#SmartTaxReform can do so much to end homelessness & hsg poverty. Join #United4Homes today to make reform happen: unitedforhomes.org
#MIDReform, $0 new cost to fed govt, could generate $241B for affdble rental programs #SmartTaxReform & #United4Homes unitedforhomes.org
#United4Homes proposals benefit low/mod income homeowners and lowest income renters w/greatest need: www.unitedforhomes.org
Visit the UFH website at: http://www.unitedforhomes.org/