United for Homes Media Strategies Webinar, February 8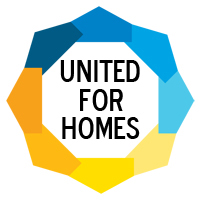 It is not too late to register for the next endorser webinar for the United for Homes (UFH) campaign on February 8, 2 pm ET. This webinar on media strategies for promoting the UFH campaign is part of a series of monthly webinars scheduled to build, engage, and support our more than 2,300 UFH endorsers as we advocate for modest reforms to the mortgage interest deduction (MID) that would benefit millions of lower income homeowners and generate billions in savings to reinvest in rental housing solutions to end homelessness and housing poverty.
UFH endorsers are ambassadors to the campaign, helping to share the campaign messages to a wide audience. This webinar will equip our endorsers with the media tools and best practices they need to communicate the UFH proposals broadly and garner additional support. The webinar will share sample talking points, tweets, posts, and op-eds that endorsers can use to promote the campaign.
We urge UFH endorsers to register for the February 8 webinar on UFH media tools and strategies at: http://bit.ly/2irHS2E
View the presentation from the January 11 webinar on the relaunch of the campaign at: http://nlihc.org/unitedforhomes
If you are not already a UFH endorser, please join the campaign at: http://nlihc.org/unitedforhomes/support
If you are not sure if you are a UFH endorser, check the list of current endorsers at: http://bit.ly/2hXD7O1