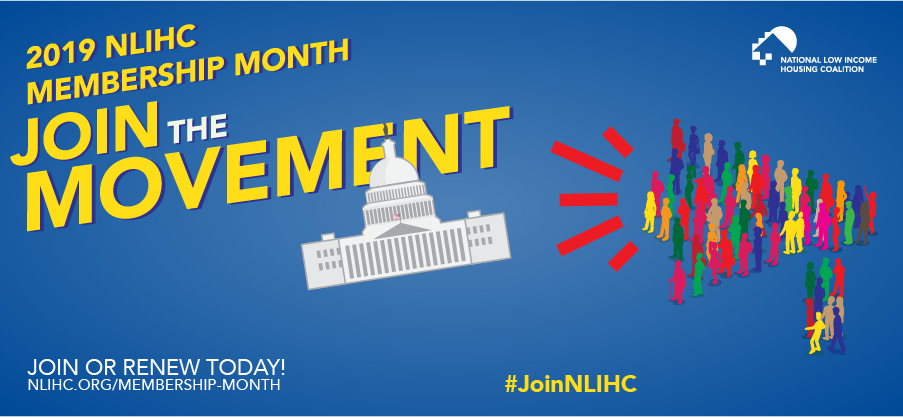 ​
September is Membership Month at NLIHC! This year we are celebrating the impact and relevance of NLIHC members in the ongoing movement for economic justice and social change. The theme is "Join the Movement" as NLIHC has always led the movement for affordable homes for those most in need. To highlight the breadth of our membership, Membership Month will showcase the many different kinds of advocates who support our work and build the momentum of NLIHC campaigns.
NLIHC members form an impressive network of committed housing and social justice advocates across the nation. With over 1,000 dedicated individual and organizational members nationwide, we are confident that together, with sustained advocacy, we can end homelessness and housing poverty in America once and for all.
NLIHC is committed to our members! We ensure they have a voice in the Coalition and the support they need to make the case for federal affordable housing solutions. Members also receive benefits like a hard copy of the NLIHC Advocate's Guide, an opportunity to provide input to NLIHC's policy priorities, and a discount at our annual Housing Policy Forum.
By recruiting new NLIHC members this month, our Coalition for affordable homes will grow even stronger!
"How can I help NLIHC during Membership Month?"
Recruit! As a coalition of members across the country, NLIHC relies on current members to bring friends and colleagues to the table with them. Share this link within your networks, let them know you are a proud member of NLIHC, and ask them to join to help ensure homes are within reach for those most in need!
Promote Membership Month with #JoinNLIHC on Twitter and Facebook! Your social media platforms are a great way to tell people and organizations in your network why you're proud to be an NLIHC member and why NLIHC's work is so important. Please share any of our sample social media posts below or get creative and post your own! Just make sure to tag your posts using #JoinNLIHC and #NLIHCMember to maximize the strength of our collective voice.
Sample Tweets:
I am an #NLIHCMember because I believe housing is a human right. #JoinNLIHC today because our collective efforts are changing the narrative & building political will https://bit.ly/2fPmBy2
I am committed to ending homelessness by advocating for more resources for affordable housing & so is @NLIHC! #JoinNLIHC today & support positive change https://bit.ly/2fPmBy2
I am an #NLIHCMember & as a member, I've supported the development of new housing for nearly 100k deeply poor renters & advocated for NO rent hikes & NO benefit cuts for low-income families #JoinNLIHC https://bit.ly/2fPmBy2
I am an #NLIHCMember because __________ #JoinNLIHC https://bit.ly/2fPmBy2
As an #NLIHCMember I helped to promote more than 130 actions around the country during #OurHomesOurVoices National Housing Week of Action #JoinNLIHC today & help spread the word in 2020 https://bit.ly/2fPmBy2
Sample Facebook Posts:
I am a member of the National Low Income Housing Coalition, an organization dedicated solely to achieving socially just public policy that ensures people with the lowest incomes in the U.S. have affordable and decent homes. Join us today as part of NLIHC Membership Month! #JoinNLIHC https://bit.ly/2fPmBy2
I just became a member of the National Low Income Housing Coalition. Together we're advancing policies to ensure extremely low-income households have affordable homes! Will you join us? #JoinNLIHC https://bit.ly/2fPmBy2
I am an #NLIHCMember because _________. #JoinNLIHC https://bit.ly/2fPmBy2
Graphics to use with Social Media Posts: 
Change your profile photo on Twitter and Facebook!
Download a special NLIHC member image on top of your existing profile picture. 

Change your Twitter and Facebook cover photos! Let your social networks know that you value NLIHC's work and your membership with us by helping us to expand the reach of our Membership Month campaign graphics.