Spotlight On... Recent Local Organizing Victories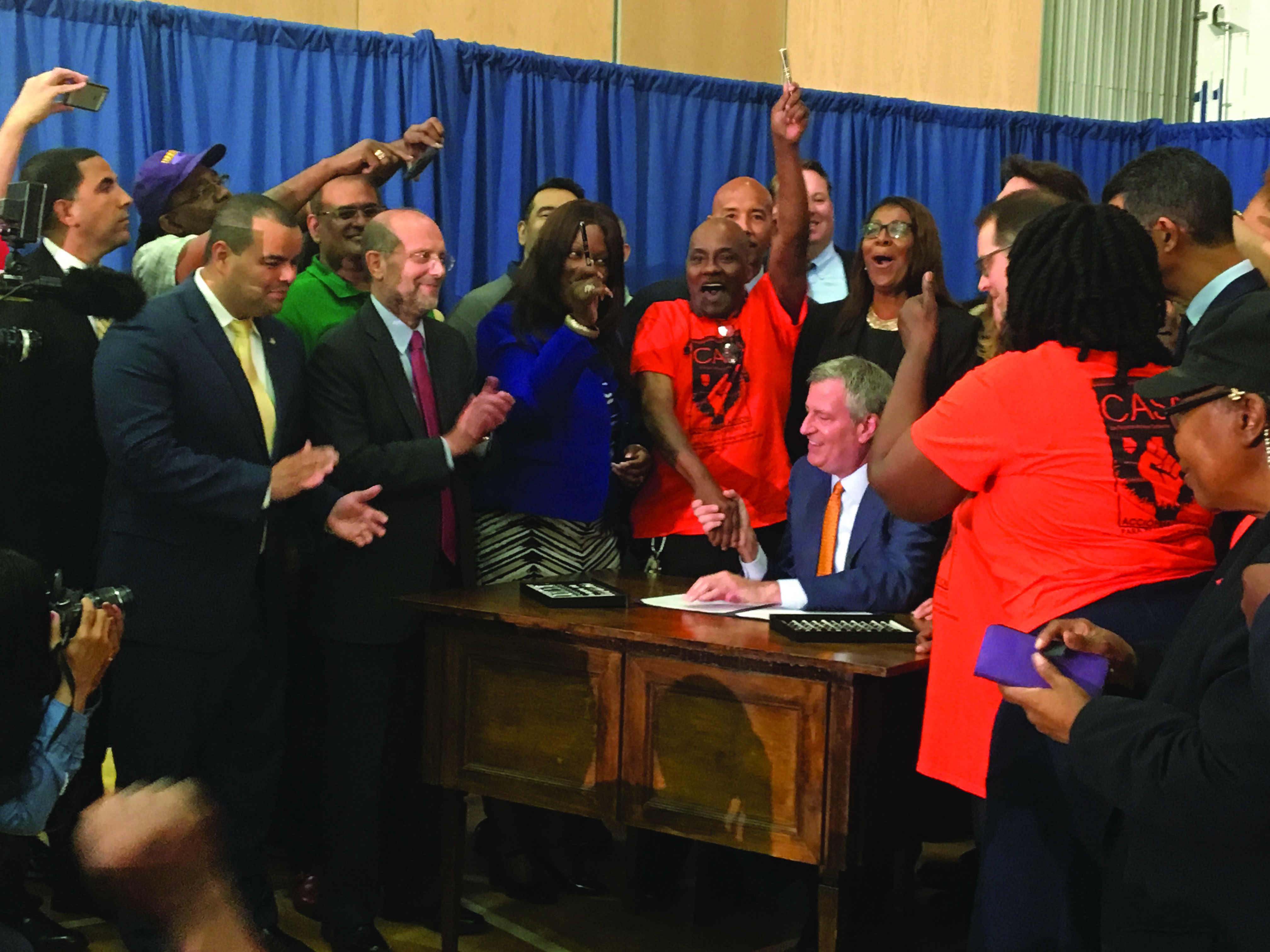 NYC Guarantees Lawyers for Tenants Facing Eviction
New York City recently passed the first law in the U.S. guaranteeing the right to counsel to low income tenants in eviction hearings. The law will provide a lawyer to renters whose incomes are at or below 200% of the poverty line, phased in over the next five years.
Since the 1963 Supreme Court decision Gideon v. Wainwright, all defendants are guaranteed the right to legal counsel in felony cases. That same right does not extend to civil cases, including housing and eviction cases. Because individuals are not guaranteed legal defense in civil cases, in eviction cases nationwide, 90% of landlords are represented by attorneys and 90% of tenants are not. This lack of representation has severe consequences for renter defendants in eviction cases. According to a study conducted by the Legal Aid Society of New York, low income tenants with legal counsel in eviction hearings are 77% less likely to be evicted than those without legal representation. The New York "Eviction Gideon" measure is expected to reduce both the number of individuals in eviction court and those who ultimately face eviction.
For the 90% of tenants who don't have legal representation, the threat of eviction and its effects loom large. Households experiencing eviction are less likely to achieve security in their education and jobs and more likely to experience homelessness and health problems. In New York, evictions have a serious effect on the affordable housing stock more broadly. When tenants are evicted from rent-controlled units, those units lose their rent-control status, rents rise, low income tenants are displaced, and the affordable rental housing stock is further diminished.  
The new law was the result of a three-year campaign led by the Right to Counsel NYC Coalition, a group of tenants, advocates, and legal support providers. Prior to the formation of Right to Counsel NYC Coalition, the Bronx-based group Community Action for Safe Apartments (CASA) began advocating for housing court reform in 2012. CASA members continued to grow support for reform and later established the Right to Counsel NYC Coalition. In August, their work paid off, when New York City Mayor Bill de Blasio signed the new law.
Advocates of the bill argued that the law will pay for itself. While providing legal counsel for tenants is expected to cost $200 million annually, a study demonstrated that the city will save approximately $300 million annually by having fewer evicted families living in homeless shelters.
New York City was the first jurisdiction in the country to pass this kind of law, and many other states and jurisdictions, including Philadelphia, Baltimore, Santa Rosa, and Massachusetts are considering similar legislation. For more information, please visit the Right to Counsel NYC Coalition website at: http://www.righttocounselnyc.org/.
---
City of Seattle Bans Housing Discrimination Based on Criminal Records
Americans leaving the criminal justice system face significant challenges when reentering society. Chief among those challenges is finding and maintaining a place to live, because many landlords refuse to rent to individuals with criminal records. Without stable housing, formerly incarcerated individuals are less likely to find jobs and more likely to commit additional crimes, ending up back in prison.
Under current law in most places, private-market landlords are able to reject prospective tenants based on their criminal record, and many public housing agencies and owners of federally assisted housing can do the same. Recently in Seattle, local lawmakers made finding housing after leaving prison an easier process.
For Seattle to truly be inclusive, universal access to housing must be a core principle. Thanks to all who made #FairChanceHousing a reality https://t.co/QCt2HrXOlL

— Ed Murray (@MayorEdMurray) August 23, 2017
In early fall, the Seattle City Council passed the "Fair Chance Housing Ordinance" (CB 119015), which prevents landlords from refusing to accept those with criminal backgrounds during the rental application process. In a unanimous vote, lawmakers effectively restored full housing rights to thousands of Seattle residents.
The original version of the legislation, proposed to the City Council in June by Seattle Mayor Ed Murray, included a two-year "look back period." This policy would have allowed landlords to consider criminal convictions that took place during the two years before a potential tenant's application when deciding whether or not to rent to that tenant. In addition, the original legislation included an exemption for landlord-occupied buildings with four or fewer units.
Local advocacy organizations and formerly incarcerated individuals formed a coalition called Fair Access to Renting for Everyone (FARE) to support the legislation but oppose the look back period and the small landlord exemption. The coalition was particularly strong because it focused on elevating the voices of people directly impacted by these discriminatory policies. FARE and other supporters of the legislation argued that access to housing is essential to criminal justice reform because it helps prevent someone with a criminal record from committing future crimes. They also connected their campaign to racial and economic justice, noting that communities of color and lower income individuals have been most impacted by mass incarceration and its lasting impacts. Advocates pointed to the importance of moving away from a system that punishes those that have already served sentences when they reenter society. FARE was able to persuade Seattle policymakers to pass the legislation without either the look back period or the small landlord exemption.
Seattle's new policy reflects a more progressive approach to ensuring housing justice for individuals with criminal backgrounds than any other major city in the country. As criminal justice reform continues to gain traction nationwide, advocates and policymakers can turn to Seattle for an example of how to ensure that access to housing is a central part of criminal justice reform efforts.
For more information, please visit FARE's website at: www.fareseattle.org