Elina Bravve, Research Analyst
Megan Bolton, Research Director
Sheila Crowley, President
The Housing Wage in Out of Reach captures the gap between wages and rents across the country, and is the estimate of the full-time hourly wage that a household must earn to afford a decent apartment at the HUD estimated Fair Market Rent (FMR), while spending no more than 30% of income on housing costs. The 2013 Housing Wage is $18.79, exceeding the $14.32 hourly wage earned by the average renter by almost $4.50 an hour, and greatly exceeding wages earned by low income renter households.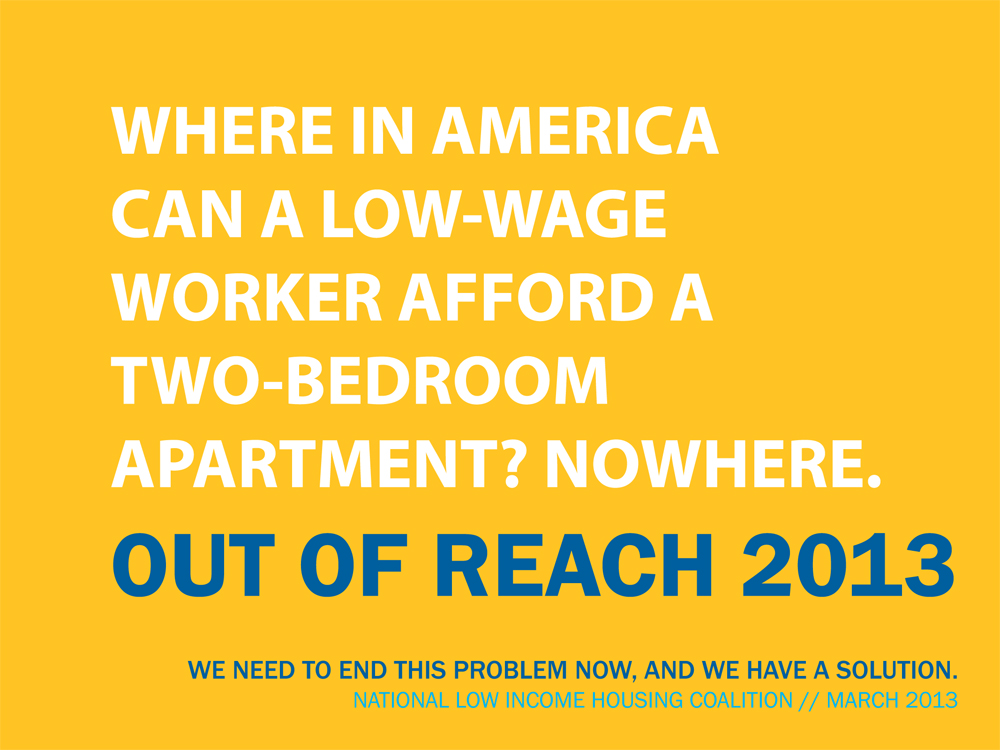 Each year, Out of Reach demonstrates that large numbers of low income renters cannot afford the cost of living in the cities and towns where they work. This edition underscores the challenges facing the lowest income renters: increasing rents, stagnating wages, and a shortage of affordable housing. The urgent solution to these issues is clear: expanding the supply of affordable housing units, dedicated to the lowest income renters.

Housing costs vary across the nation, but the lack of affordable housing affects low-wage workers in all corners of the country. In order to close the gap between the demand for affordable housing and the supply, we would need to add 4.5 million units affordable to ELI households. This is not an unattainable goal. Once funded, the National Housing Trust Fund (NHTF) would provide states with the dollars they need to expand the stock of housing that is affordable to ELI households.
Correction: The 2013 Renter Wage and associated statistics have been corrected as of 3/12/13 7:30pm EST. Please refer to the updated data for your state.