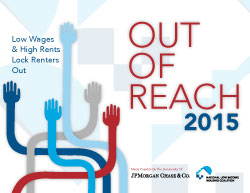 The National Low Income Housing Coalition's Out of Reach 2015 report reveals that the tightening rental market is making it increasingly difficult for low income renters to find decent, affordable apartments all across the country. The 2015 National Housing Wage is $19.35, meaning that someone working full-time, 40 hours a week, would need to earn $19.35 per hour in order to afford a modest two-bedroom rental unit while spending no more than 30% of household income on housing costs. In 13 states and the District of Columbia, the Housing Wage is more than $20 per hour. 

Click Here to Download the full 2015 Report
The 2015 Housing Wage is now 2.7 times the federal minimum wage of $7.25. There is no state in the country where someone earning either the state or federal minimum wage can afford even a one-bedroom apartment renting at the HUD Fair Market Rent (FMR). In fact, a minimum wage earner would need to work 86 hours per week to afford a modest one-bedroom apartment and 107 hours per week to afford a modest two-bedroom apartment. Even if the minimum wage was raised to $10.10 as President Barack Obama has proposed, it would fall far short of the Housing Wage. 
There are significant differences between the National Housing Wage of $19.35 and state and county Housing Wages, as well as between metropolitan and non-metropolitan areas, all of which are available in the full Out of Reach 2015 report.
Megan Bolton, MPP, Research Director
Sheila Crowley, Ph.D., MSW, President and CEO
Elina Bravve, MCRP, Senior Research Analyst
Ellen Errico, Graphic Design and Web Manager
Emily Miller, Research Intern
National Low Income Housing Coalition
May 2015