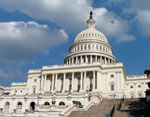 Speaker of the House John Boehner (R-OH) announced he was resigning from Congress at the end of October, an action many believe clears the way for Congress to pass a "clean" Continuing Resolution (CR) to keep government programs operating through December 11, avoiding a government shutdown this week.
Senate Majority Leader Mitch McConnell (R-KY) is expected to move forward this week with a Senate vote on a clean CR. A clean CR is one without riders such as defunding Planned Parenthood. Advocates hope that passage of a short term CR will lead to a broader agreement to raise the sequester caps for FY16.
On September 24, the Senate rejected by a vote of 47 nays to 52 yeas a CR that would have prohibited any federal discretionary funding for Planned Parenthood in FY16. Joining most Democrats who voted against the CR were eight Republicans Senators: Kelly Ayotte (NH), Susan Collins (ME), Tom Cotton (AR), Dean Heller (NV), Mark Kirk (IL), Lisa Murkowski (AK), Rand Paul (KY), and Ben Sasse (NE). Senator Joe Manchin (D-WV) was only Democrat to vote for the CR. Senator Barbara Boxer (D-CA) did not vote. Sixty votes in favor of the CR were required to avoid a filibuster.
Congress has until midnight on September 30 to pass a CR that the President will sign to avoid a government shutdown. The Senate could vote to pass a clean CR as early as September 29, leaving the House just one day to approve it. Speaker Boehner's decision to retire indicates that he is resolved to get a clean CR through the House to avoid a shutdown.
The CR that the Senate is expected to consider would fund federal programs at FY15 levels but would impose a .21% across-the-board cut to all defense and nondefense discretionary programs to comply with FY16 sequester spending caps mandated by the Budget Control Act of 2011.
The CR also includes language that would help address a problem in USDA Rural Development's (RD) Rental Assistance program. The CR would permit the amendment of rental assistance contracts entered into or renewed in 2015 that exhausted funds during their 12-month contract period. Because RD believes it cannot amend these contracts, RD has been advising owners that they may raise rents beyond their legal authority to do so.  Approximately fifty Section 515 rental and Section 514/516 farm labor housing developments will exhaust their rental assistance on current contracts before September 30, 2015. Another several hundred properties will exhaust their funding between October 1 and December 31, 2015. With the language in the CR, RD would be able to amend contracts by an amount sufficient for owners to operate their developments for the remainder of their contract terms.
Passage of a short-term CR will provide Congress the opportunity to forge an agreement to end sequester caps for FY16. In his FY16 budget request, President Barack Obama is seeking $76 billion in federal funding above the FY16 sequester spending caps. The President has stated that he will veto any spending bill that does not lift the caps.
Without the caps, appropriators would be able to avoid raiding the National Housing Trust Fund as the House THUD spending bill does in order to fund the HOME program. Appropriators could also choose to fully fund the renewal of all Housing Choice vouchers currently in use and to provide for 12-month contracts for all project-based rental assistance contracts expiring in 2016.  Raising the caps would also allow Appropriators to avoid gutting the HOME program as the Senate Appropriations Committee's THUD spending bill does.
Senate THUD Appropriations Subcommittee Ranking Member Jack Reed (D-RI) spoke on the Senate floor on September 24 about the importance of raising the sequester spending caps, maintaining parity between defense and non-defense programs, and adequately funding housing programs. "If the caps stay," Senator Reed stated, "we won't be able to provide adequate and decent housing for our citizens."
During the weeks of September 14 and 21 national organizations participating in the Campaign for Housing and Community Development's "Caps Hurt Communities" campaign sent letters to Senate and House leadership urging them to lift the sequester spending caps and to adequately fund housing, homelessness, and community development programs. In its letter, NLIHC noted that "[t]he United States is experiencing a sustained and worsening affordable housing shortage, which disproportionately impacts the nation's lowest income households."
Read national organizations' letters urging Congress to raise the sequester spending caps at http://www.capshurtcommunities.org/#!resources/cla6