Government Shutdown Averted, Budget Talks to Begin "Soon"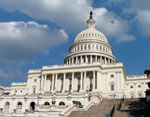 With just hours to spare, on September 30, the Senate and House passed and President Barack Obama signed a Continuing Resolution (CR) to keep the federal government funded through December 11. Now lawmakers must negotiate a budget deal that President Obama will agree to sign to keep the government operating through FY16.
The CR passed in the Senate by a vote of 78 to 20 and in the House by a vote of 277 to 151. All votes in opposition in both chambers were by Republicans. Only 91 House Republicans voted to keep the government open. Majority Leader Kevin McCarthy (R-CA), the frontrunner to succeed Representative John Boehner (R-OH) as Speaker of the House, voted in favor of the CR
Congressional leaders and advocates now are calling for a broader budget deal that ends the Budget Control Act sequester spending caps. "Avoiding a shutdown is just the first step. Next, we need a budget deal to cancel sequester," Senate Committee on Appropriations Vice Chair Barbara Mikulski (D-MD) said in a September 30 press release. "I challenge [Senate] leadership to work with Speaker Boehner to enact a new topline budget deal by the end of October. We can't let October brinksmanship become a Christmas crisis," she said.
Senate Majority Leader Mitch McConnell (R-KY) told the media on September 29 that he would begin discussions with Majority Leader Boehner and President Obama to achieve a budget agreement for FY16 and FY17 "very soon."
In his weekly radio address on October 2, President Obama called on Congress to lift the sequester and fully fund federal programs. Reiterating his pledge to veto FY16 appropriations bills that are based on the current sequester levels, he said he would not sign another "short-sighted, short-term" CR.
Congress also faces another debt ceiling vote in the coming weeks. Treasury Secretary Jack Lew notified Congress on October 1 that the U.S. will reach the current debt ceiling limit around November 5. He urged Congress to act to raise the debt ceiling as soon as possible.
Read Vice Chair Mikulski's statement is at: http://www.appropriations.senate.gov/news/vice-chairwoman-mikulski-statement-final-passage-clean-cr
The transcript of President Obama's weekly address can be found at  https://www.whitehouse.gov/the-press-office/2015/10/03/weekly-address-congress-should-do-its-job-and-pass-serious-budget
Secretary Lew's letter to Congress is at http://www.treasury.gov/connect/blog/Pages/Treasury-Sends-October-Debt-Limit-Letter-to-Congress.aspx