NLIHC Membership Campaign Enters Final Week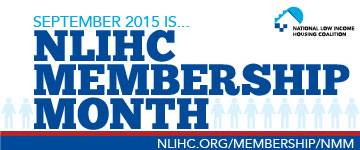 NLIHC's Membership Month is entering its final week. We need your help in these final days of our campaign to encourage family members, friends and colleagues to join NLIHC in our mission to ensure safe, decent, affordable housing for the lowest income people in the U.S.
By joining NLIHC, you will become a part of growing movement of committed housing and social justice advocates across the nation. NLIHC's research provides cutting edge analysis of the state of affordable housing throughout the country. NLIHC's publications keep you up-to-date on the latest information about the state of homelessness and affordable housing in America, and our policy experts are relied on by policy makers and the nation's top media outlets for the breadth and depth of their expertise.
Your membership shows you care. Together we can end housing poverty and homelessness in America. To become an NLIHC member, go to http://nlihc.org/membership/nmm
We also encourage you to share information about our membership campaign on social media by using the hashtag #JoinNLIHC.  Send us a photo of yourself holding a placard telling us what home means to you or why you decided to join NLIHC. We will use photos from our new and existing members as a collage at the end of the Membership Month and share your messages on our social media platforms. You can also read a series of interviews with our longstanding members as to why they joined NLIHC and why they think others should join. Read the interviews here: http://hfront.org/2015/09/21/home-is-where-you-feel-physically-and-emotionally-secure/