Now Showing: How Will NHTF Be Distributed Within States?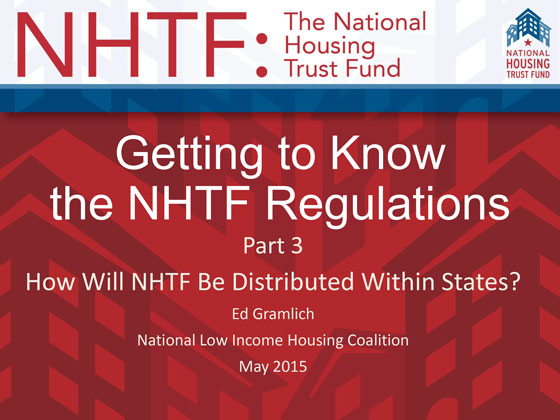 The third video in NLIHC's five-part series, Getting to Know the National Housing Trust Fund Law and Regulations, focuses on the required components of and process for distributing National Housing Trust Fund (NHTF) money within states. NLIHC's Ed Gramlich shares key action steps that will take place each year around the required state NHTF Allocation Plan. Ed also provides an action plan for advocates who should engage in the required public participation process in order to shape their state's NHTF Allocation Plan.
Getting to Know the National Housing Trust Law and Regulations is a five-part series that explains why the National Housing Trust Fund is necessary and why the focus is on ELI renters, describes how the funds will be distributed to states, emphasizes opportunities for advocates to influence how their state allocates the funds, and provides detailed information about how the funds can be used. 
Take a look! http://nlihc.org/issues/nhtf/videos