Treasury Moves up Debt Ceiling Deadline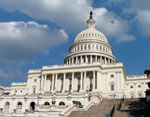 In a letter to Speaker of the House John Boehner (R-OH), Treasury Secretary Jack Lew said that the nation will reach its debt limit on November 3, two days earlier than Treasury had recently predicted. Moving up the deadline for when the U.S. would reach its borrowing limit increases the pressure on Congress to act in order to avoid defaulting on the federal debt. Outgoing Speaker of the House John Boehner (R-OH) and Senate Majority Leader Mitch McConnell (R-KY) have stated that they intend to avoid a default.
Negotiations continue among the White House and Senate and House leadership on raising the raise the sequester spending caps before the current continuing resolution (CR) expires on December 11. Without a budget deal, Congress will need to pass another CR to avoid a federal government shutdown. President Barack Obama has stated he will not sign either another short term or a long term CR. Leader McConnell and Speaker Boehner have stated there will be no government shutdown.