Housing the Lowest Income People
An Analysis of National Housing Trust Fund Draft Allocation Plans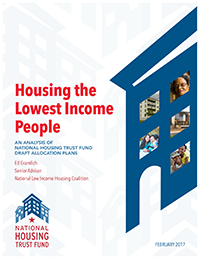 Housing the Lowest Income People is a summary of key features identified in the 51 draft national Housing Trust Fund (HTF) Allocation Plans that states and the District of Columbia are required to submit to HUD. Click here to download the report (PDF)
The national Housing Trust Fund (HTF) is the first new housing resource since 1974 targeted to building, rehabilitating, preserving, and operating rental housing for extremely low income people.
NLIHC, its members, and other stakeholders played a critical role in the creation of the Housing Trust Fund through the passage of the Housing and Economic Recovery Act of 2008.
In 2016, the first $174 million in HTF dollars were allocated to states. In 2017, $219 million is available. These initial allocations are important steps, but far more resources are needed.
NLIHC leads the Housing Trust Fund Implementation and Policy Group, a coalition of national advocates committed to protecting and expanding this new resource. NLIHC works with stakeholders to build Congressional support to increase funding for the HTF through tax reform, housing finance reform, investments in infrastructure, and other legislative opportunities.
Latest HTF News:
HTF State Allocation Plan Information
NLIHC continues working with leaders in each state and the District of Columbia who mobilize advocates in support of HTF Allocation Plans that benefit ELI renters to the greatest extent possible. Click Here to find information about your state.
HTF Allocation Plan & Implementation
Developer Resources
Quick Links
Stay Connected
If you would like to print any of these pdfs, you will have better results if you download the pdfs to your desktop, open the pdf in Acrobat Reader, and print from Acrobat.  To download Acrobat Reader, click here: https://get.adobe.com/reader/