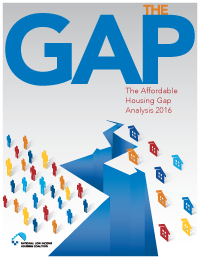 The Gap documents a shortage of 7.2 million affordable and available rental units for the nation's 10.4 million extremely low income (ELI) renter households, those with income at or below 30% of their area median (AMI). Three-quarters of ELI renters are severely cost-burdened, spending more than half of their income on rent and utilities. 
The report calls for greater federal investment in ELI rental housing through the National Housing Trust Fund (NHTF) and other housing programs. New rental housing affordable to ELI households is nearly impossible to produce without subsidies, and today's major federal affordable housing production programs allow rents that are too high for ELI renters to afford. 
Millions of ELI renters live in housing unaffordable to them. Expanding the affordable rental supply to which these cost-burdened ELI households could move would free up their current units for other households further up the income ladder.
If you are a member of the press or media, and you would like to recieve our press kit that includes the images in this report, please email our Communications Department at communicationsteam@nlihc.org or contact us at 202-662-1530.