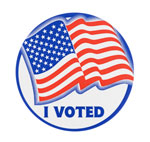 NLIHC joined New York City Council members Ritchie Torres, Jumaane Williams, and Brad Lander in urging presidential candidates to visit New York City Housing Authority (NYCHA) public housing properties in the lead up to New York's primary elections on April 19. Other signatories to the letter included Community Service Society, Community Voices Heard (SVH), Power Families United for Racial and Economic Equality (FUREE), Good Old Lower East Side (GOLES) and the Legal Aid Society.
The letter cites NLIHC's estimated gap of 7.2 million affordable and available rental units for the nation's 10.4 million lowest income renters, three quarters of whom spend more than half their income on their rent (see NLIHC's 2016 GAP report at http://nlihc.org/research/gap-report). "Meanwhile, we continue to spend nearly $75 billion (more than double the entire HUD budget) on the Mortgage Interest Tax Deduction, which goes disproportionately to the wealthiest Americans," the letter says. A tour of NYCHA public housing developments would serve, states the letter, as an ideal venue for candidates to "talk about your plans to address the housing crisis facing our country – not only your plans to preserve and improve public housing, but also Housing Choice Vouchers, the National Housing Trust Fund, Low Income Housing Tax Credits," and "ways to support municipalities like New York City who are taking bold and innovative steps involving land use and local subsidies."
In addition to requesting that candidates visit NYCHA properties, the letter urges them to speak to the affordable housing crisis facing New Yorkers and millions of people across the country. On Friday, April 15, Hilary Clinton, Democratic presidential candidate, responded by visiting a NYCHA public housing development and talking about the need for more affordable housing resources, and by publishing an op-ed in El Diaro laying out her plan to invest in affordable housing and community development solutions. She states in the op-ed that she has long supported affordable housing, including when as Senator she "co-sponsored the National Affordable Housing Trust Fund Act, which later passed and established a dedicated stream of funding for 1.5 million new affordable homes." Secretary Clinton proposes to expand the Low Income Housing Tax Credit program, provide new Housing Choice Vouchers, and "encourage local land use and zoning strategies that make it easier to build affordable rental housing near good jobs," among other things.
On April 17, NLIHC, City Council members Torres, Williams, Lander, and other advocacy groups published a press release thanking Secretary Clinton for addressing housing issues and urging other presidential candidates to do the same. On April 18, Senator Bernie Sanders (I-VT), Democratic presidential candidate, visited a NYCHA public housing property and released his plan for ending the affordable housing crisis. (see related article in Memo to Members).
Republican presidential candidates have not yet directly responded to the requests in the letter.
The letters to presidential candidates can be viewed here: http://bit.ly/1T9NY1S and here: https://t.co/LY4ndyRw3F