Spotlight On...
New York Advocates Celebrate Passage of "Housing Stability and Tenant Protection Act of 2019"
Tenant organizers across New York recently celebrated the passage of the strongest law protecting tenants in the state's history, the "Housing Stability and Tenant Protections Act of 2019." The law permanently closes loopholes in New York's rent stabilization system, allows the system to expand to the entire state, and offers eviction protections to renters and manufactured-housing residents everywhere in New York.
Rent stabilization is the regulation of rent prices. If someone lives in a rent-stabilized apartment, the landlord can only increase the rent by a certain percentage, determined by the New York Rent Guidelines Board. In the past, major rent hikes would come from resident turnover or apartment renovations. Now, landlords' ability to raise the rents based on apartment improvements and vacancy of units is significantly reduced.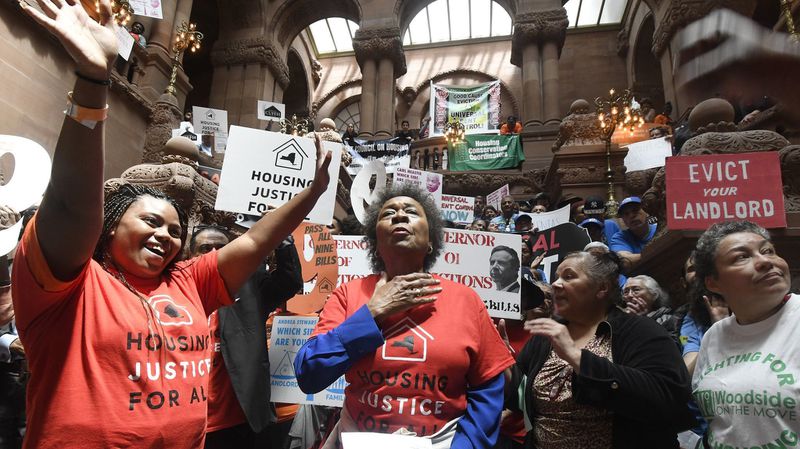 Housing Justice for All Rally at New York State Capital
New York State Tenants & Neighbors, an NLIHC state partner, advanced these efforts in their role within the Housing Justice for All Campaign. Advocates organized, marched, and lobbied. They met with city councils across the state urging them to support renter protections. They called on key political leaders to sign onto the complete Housing Justice for All legislation sponsored by House Speaker Carl Heastie and Senate Majority Leader Andrea Steward-Cousins. They visited the state capitol every Tuesday to engage with lawmakers, marched in the streets, and delivered a pro-renter petition with 3,000 signatures to Governor Andrew Cuomo. 
"Advocates organized, marched, and lobbied." 
Delsenia Glover, former director of New York State Tenants & Neighbors and a spokesperson for the campaign, said she was "thrilled and honored to be at the helm of this great organization to witness this historic legislation to protect rent-regulated tenants, including laws which do not sunset! This bill is a huge step forward in reversing decades of weakening amendments to the laws that govern rent regulation in New York state. This is the culmination of years of tenant activism and advocacy, and a great victory for all New York."
Nebraska Housing Advocates Win Landlord-Tenant Improvements and Local Rental Inspection Ordinances
Nebraska's affordable housing crisis has worsened in recent years, due in part to landlord-friendly laws and developers' gentrification of low-income areas in cities like Omaha and Lincoln. Housing advocates successfully advocated for stronger tenant protections in Nebraska to address the growing affordable housing crisis, getting a law passed that requires landlords to give more notice to tenants before an eviction. Local ordinances were also passed in Omaha and Lincoln that require landlords to register their properties and keep their apartments up to code.   
State Senator Matt Hansen of Lincoln introduced legislation updating the Landlord-Tenant Act and Nebraska's fair housing law after hearing from renters and advocacy groups across the state. Advocates from Nebraska Appleseed and Together Omaha shared renters' stories with senators to show the need for greater renter protections. Legislature Bill 433 (LB433), which became law this year, changes the 3-day notice to quit for nonpayment of rent to a 7-day notice and mandated that security deposits be returned within 14 days whether or not the tenant makes a written demand, as the previous law required. Under the new law low-income renters will have more time to avoid a possible eviction and more protections from landlords who rely on their tenants' lack of legal knowledge to steal security deposits. 
Nebraska State Senator Matt Hansen
In Omaha, a broad coalition of local housing advocates came together to push the City Council to adopt a proactive rental registration and inspection ordinance, building on the outrage surrounding the September 2018 evacuation of a local housing complex after thousands of major code violations were discovered. The ordinance, passed in April 2019, requires all rental properties in the city to be registered and those properties with a history of unresolved code violations to be placed on an annual inspection list for two years. All other rental properties in the city will be inspected every ten years to ensure they are up to code. The ordinance, which goes into effect January 1, 2020, will have a positive impact on low-income renters who often pay too much for substandard housing.
"Low-income renters will have more time to avoid a possible eviction and more protections from landlords who rely on their tenants' lack of legal knowledge to steal security deposits."
The Lincoln City Council also recently adopted a housing ordinance that triggers more internal inspections of properties and creates a centralized rental registry, thanks to the joint efforts of residents, advocates, and city council members. Under the ordinance, all rental properties with three or more rental units must be listed in the rental registry, and those with one or two rental units must be listed if they have been the subject of a housing code violation. The ordinance requires internal inspections if a landlord is cited for a housing code violation, when multiple apartments from the same property register housing code complaints, or when complaints are received from different properties under the same owner. Though internal inspections continue to be complaint-based, the additional circumstances triggering these inspections provide tenants greater protections against substandard housing conditions. 
These are major successes in a state that has done little for low-income renters in the past. Nebraska housing advocates are making the state a more equitable place for renters to live.