Virginia advocates launched the Campaign for Housing and Civic Engagement (CHACE) during 2017's Our Homes, Our Voices National Housing Week of Action. The Virginia Housing Alliance and the Virginia Poverty Law Center led the non-partisan effort, which involved 20 organizations across the state. CHACE worked to be sure affordable homes were a priority for both candidates and voters. Many candidates acknowledged the need and importance of housing affordability in the state and their districts, convincing CHACE to lead year-round voter education and elected official engagement in 2018.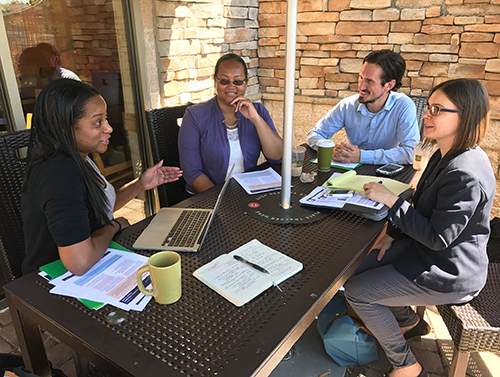 As part of CHACE's effort to engage candidates, Sim Wimbush, Molly Jacobson, and Zack Miller from the Virginia Housing Alliance meet with Delegate Jennifer Carroll Foy (D), who won her seat in November 2017.
Part of what made CHACE's engagement efforts in 2017 successful was the use of polling to demonstrate Virginians' support for affordable housing. CHACE found that a majority of Virginians supported expanding state resources for affordable housing and requiring utility companies to implement energy efficiency measures to help families save on utilities. CHACE persuaded candidates with the polling data and used the strong constituent support to make housing programs more urgent to voters.
CHACE provided candidates fact sheets and talking points for their consideration and to use when talking with fellow elected officials and constituents. CHACE met directly with candidates and educated them on both the need for more affordable housing in Virginia, and the voters' opinions on the issue based on polling responses. CHACE also worked with Virginians Organized for Interfaith Community Engagement (VOICE) to ensure their gubernatorial candidate forum included a discussion on affordable housing. As a candidate, Governor Ralph Northam highlighted the struggle thousands of Virginians face as housing costs rise and wages stay flat. His understanding of the issues and his support of affordable housing is proof of CHACE's impact.