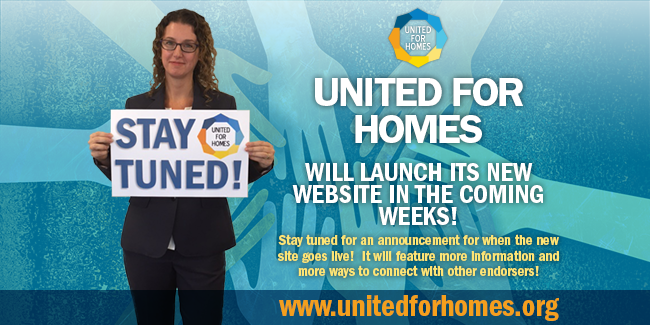 United For Homes Resources
If you would like to print any of these pdfs, you will have better results if you download the pdfs to your desktop, open the pdf in Acrobat Reader, and print from Acrobat. To download Acrobat Reader, click here: https://get.adobe.com/reader/
Click here if you would like to download all the PDF Resources in a .zip file.
---
Upcoming United for Homes (UFH) Webinars:
Endorser Webinars:
The UFH endorser webinars are scheduled for the second Wednesday of each month at 2 pm – 3 pm ET.
Register at: https://attendee.gotowebinar.com/register/7240878184486109953 
To download the Media Toolkit for the Webinar, click here.
---
Previous United for Homes (UFH) Webinars:
United For Homes: Media Training — Originally Aired Wednesday, February 8, 2017
This United for Homes endorser webinar focuses on media training. The webinar identify talking points, review sample tweets and posts, and review sample op-eds that can be used as best practices for engaging the media around this campaign.
---
United For Homes Campaign Relaunch — Originally Aired Wednesday, January 11, 2017
The United for Homes campaign is a collaboration of more than 2,300 individuals and organizations working to end homelessness & housing poverty. We have united to urge the reform of the mortgage interest deduction—a $70 billion a year tax write-off that largely benefits America's highest income families—and reinvest the savings in housing that serves families with the greatest, clearest, most pressing needs through solutions like the national Housing Trust Fund (HTF) and rental assistance programs. 
If you believe in our solution to end homelessness, build a strong foundation, and strengthen communities, join the campaign and share our message on Twitter and Facebook.
---
Video Pop-up