Committee Passes Inadequate USDA Spending Bill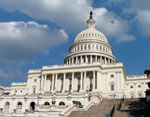 The Senate Committee on Appropriations passed its FY16 Agriculture, Rural Development, Food and Drug Administration, and Related Agencies bill on July 16. The bill includes funding for USDA's Rural Housing Service. Unfortunately, the bill does not include a policy to protect residents of Rural Development (RD) properties that have maturing mortgages nor does it include vouchers to assist tenants when mortgages mature.
On July 13, NLIHC joined more than 50 organizations in a letter to Senate appropriators asking for protections for tenants in these properties. The letter was coordinated by the National Housing Law Project and the National Housing Trust.
"In the next 10 years, nearly 75% of the [Rural Development] loans that financed the construction of all rural rental and farm labor housing developments will mature. When this occurs, these developments will lose their [Rental Assistance] subsidies for low and very low income residents. Over 300,000 households, or 600,000 individuals, will be adversely affected by this loss of subsidy upon loan maturation and at risk of displacement because of rising rents. Nearly 60% of these households are headed by persons who are over the age of 62 or have a disability," the letter says.
According to the National Rural Housing Conference (NRHC), the report to the Senate USDA spending bill expresses concern about the increasing number of maturing mortgages and the potential impact on residents of RD Section 515 developments. The Committee has directed the Government Accountability Office to analyze the maturing mortgage issue and to make recommendations to the Committee.
The bill would provide $7 million for the Rental Assistance voucher program, an amount that severely underfunds known needs for FY16. "The Administration has requested $15 million for the Rural Voucher program in FY 2016. This is the level at which the program is currently operating, with $7 million coming from FY 2015 appropriations and $8 million from FY 2014 carry-over funding. If the Rural Voucher program is funded at $15 million in FY 2016, RD will have adequate funding only to renew outstanding vouchers, but not enough to issue any new vouchers. Based on available data, we understand that in order to meet the current demand for new and existing vouchers, the program would require $27 million in FY 2016. Any lesser amount will cause residents of prepaying and maturing loan developments to be displaced and become homeless," the July 13 letter says.
As with other Senate appropriations bills, the inadequate funding levels in the Senate USDA FY16 bill are the direct result of the sequester caps. President Barack Obama has repeatedly said he will veto any spending bill that is based on the sequester spending caps.
The July 13 letter is at http://nlihc.org/sites/default/files/Sign-On-Letter_Sen-Ag-Approps_071315.pdf
The NLIHC budget chart is at http://nlihc.org/sites/default/files/FY16HUD-USDA_Budget-Chart.pdf.