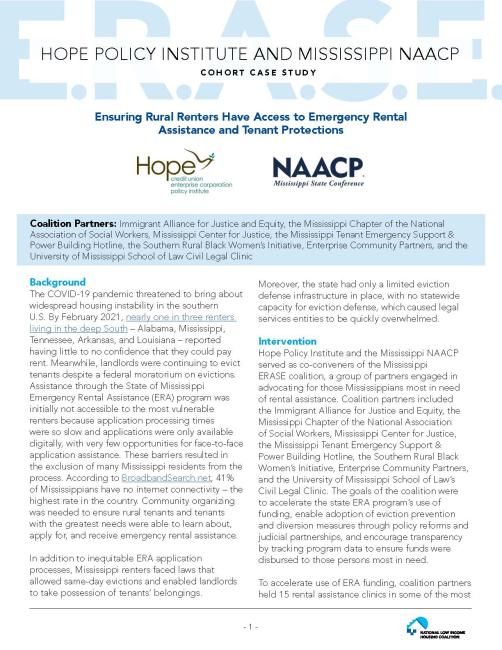 NLIHC Releases Case Studies Highlighting Successes of Five ERASE Cohort Members
NLIHC released on May 18 a set of case studies highlighting the successes of five members of the 2021-2022 End Rental Arrears to Stop Evictions (ERASE) cohort: Connecticut Fair Housing Coalition, Idaho Asset Building Network, Prosperity Indiana, Keep Detroiters in the Their Homes Coalition, and Hope Mississippi & Mississippi NAACP. The case studies provide background on the COVID-19 context for each location; the activities undertaken by cohort members to ensure that emergency rental assistance (ERA) was visible and accessible to the lowest-income households in their communities and that ERA succeeded in preventing displacement; the impact of their work; and future endeavors to protect the rights of tenants and create permanent emergency rental assistance programs.
---
The End Rental Arrears to Stop Evictions (ERASE) project is a national effort by the National Low Income Housing Coalition (NLIHC) to ensure that the historic $46.6 billion in emergency rental assistance (ERA) enacted by Congress during the pandemic has reached the lowest-income and most marginalized renters for whom it was intended and that we build on the successes of the pandemic-era ERA program to develop permanent programs and broaden renter protections in the future.
The ERASE project seeks to eliminate rental indebtedness caused by the pandemic and set the stage for permanent solutions to promote housing stability, advance equity, and prevent evictions over the long term by (1) tracking and analyzing emergency rental assistance utilization; (2) documenting and sharing best practices and toolkits; (3) influencing and shaping program design at federal, state, and local levels; (4) developing key partnerships for outreach and education; and (5) assessing remaining needs to inform advocacy for long-term investments and tenant protections to end housing instability and homelessness in the United States.
Early demographic data show that our collective effort to ensure emergency rental assistance reaches those households most in need has been successful. Two-thirds of households receiving assistance had extremely low incomes, while 43% of households receiving ERA identified as Black and 20% identified as Latino(a). Research indicates that the unprecedented investment in rental assistance, coupled with new local, state, and federal tenant protections, prevented millions of renter households from being evicted. Research from Princeton University's Eviction Lab meanwhile finds that government interventions resulted in the prevention of approximately 1.36 million evictions in 2021.

Emergency Rental Assistance: A Blueprint for A Permanent Program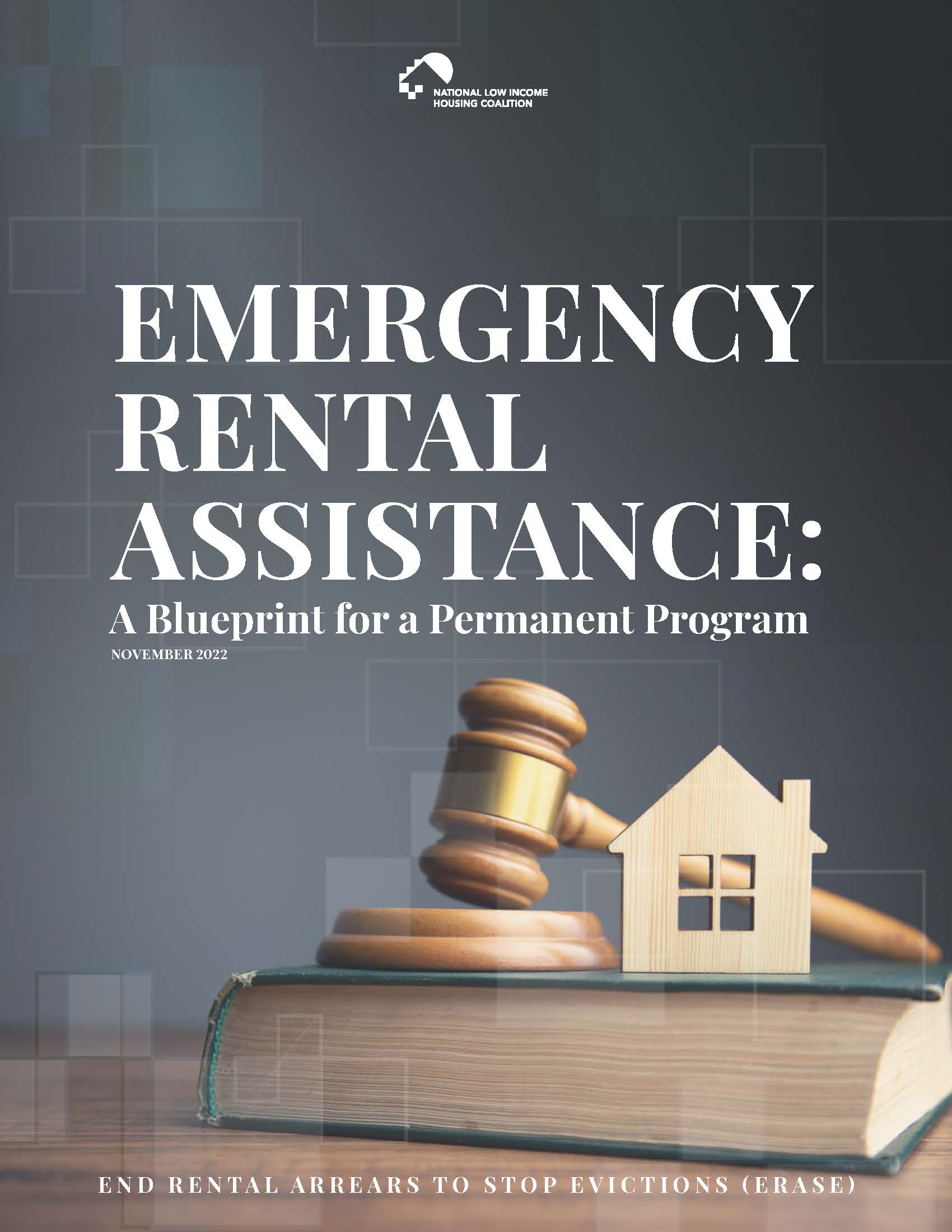 The report examines the implementation of the U.S. Department of the Treasury's (Treasury) Emergency Rental Assistance (ERA) program by state and local organizations in order to identify policies and practices that led to successful implementation and provide recommendations for model programs. By offering a compendium of new research, innovative tools, and shared experiences in the implementation of ERA, the report aims to provide a blueprint that could be used to establish a permanent ERA program in the future.

 Click Here to View the Interactive PDF of the Report.
ERASE Checklist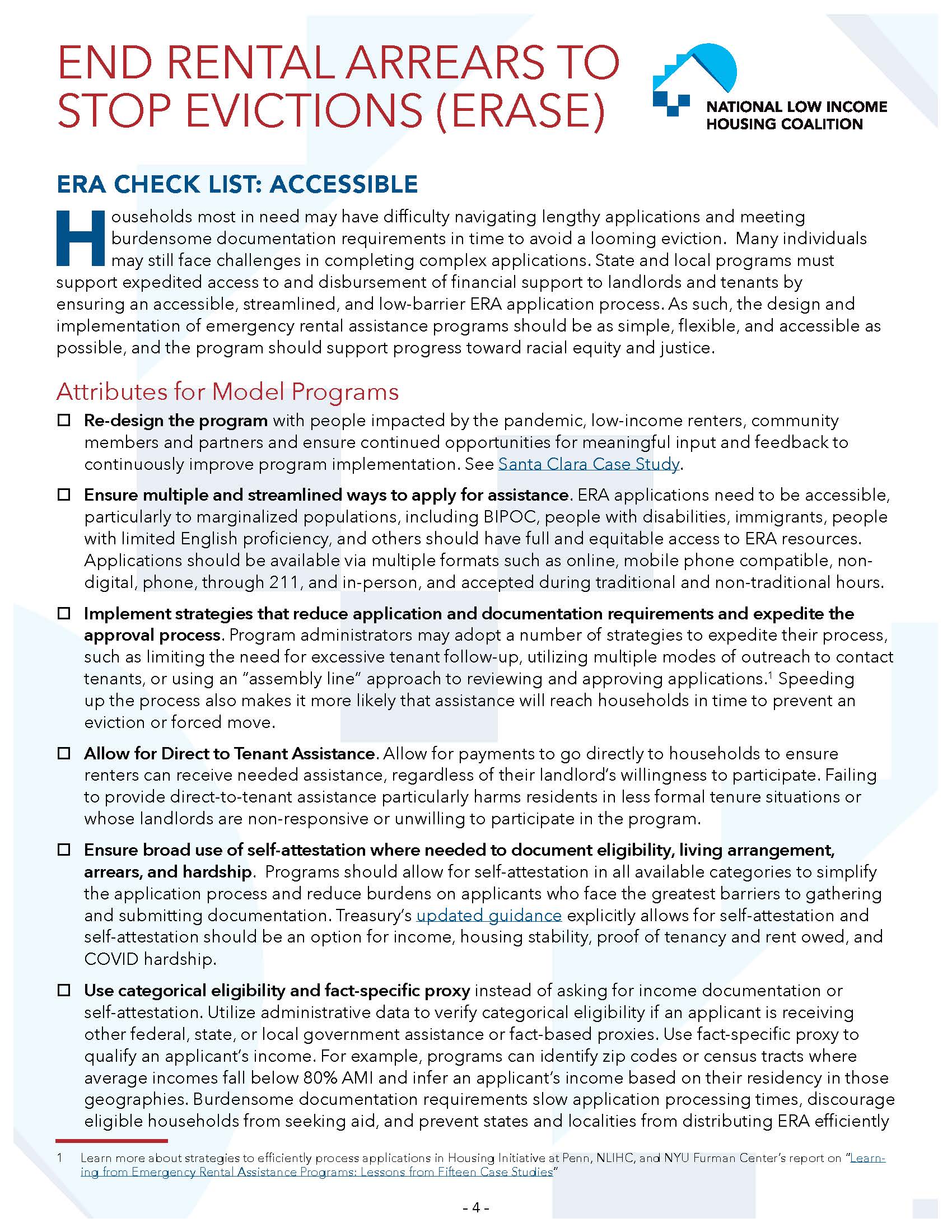 The ERASE Checklists are designed to help you make a quick assessment to determine if your emergency rental assistance program is visible, accessible, and preventive and to offer strategies for program design and implementation, partnership development and course correction.

 Click Here to View the Interactive PDF of the Report.
ERASE Assessment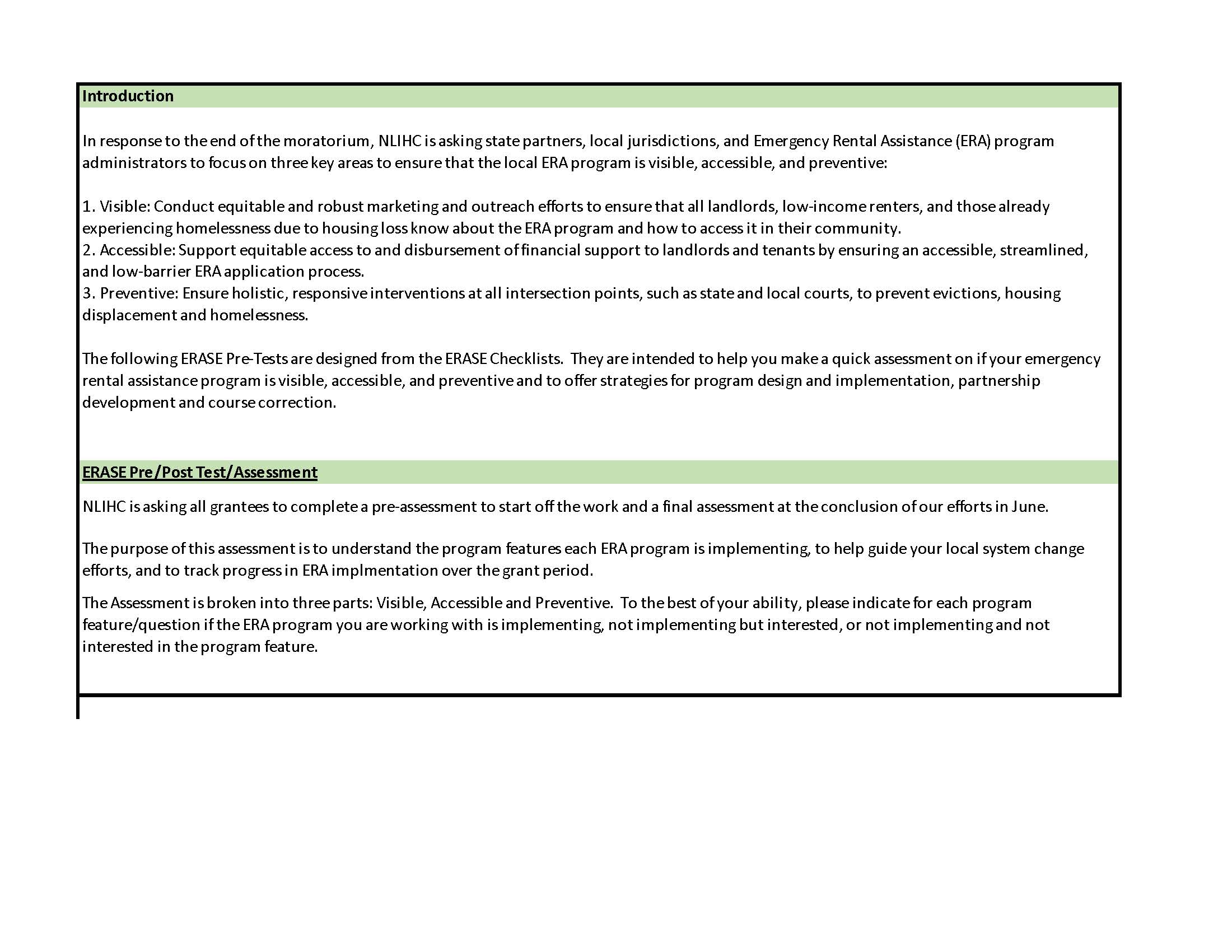 Building off the ERASE Checklist, the ERASE Assessment provides is a survey designed to help understand the program features each ERA program is implementation.  The ERASE Assessment can be helpful in guiding program improvement plans, local system change efforts, and in tracking progress in ERA implementation over time.
The Assessment is broken into three parts: Visible, Accessible and Preventive.  To complete the assessment, indicate for each program feature/question if the ERA program you administer or are working with is implementing, not implementing but interested, or not implementing and not interested in the specified program feature

 Click Here to View the Interactive PDF of the Report.
For more information, contact Sarah Gallagher, ERASE Senior Project Director, at [email protected].