End Rental Arrears to Stop Evictions (ERASE) is a national effort led and coordinated by the National Low Income Housing Coalition (NLIHC). ERASE is designed to ensure that the historic aid enacted by Congress reaches the lowest-income and most marginalized renters it is intended to help. The project seeks to eliminate rental indebtedness caused by the pandemic and to prevent evictions by tracking and analyzing emergency rental assistance utilization; documenting and sharing best practices and toolkits; influencing and shaping program design at federal, state, local levels; developing key partnerships for outreach and education; and assessing the remaining needs to inform advocacy for long-term investments to end housing instability and homelessness in the United States.


ERASE News
NLIHC Announces RFP for ERASE Evaluation
The National Low Income Housing Coalition (NLIHC) is pleased to release this Request for Proposals for a consultant, evaluation firm and/or academic institution to conduct a multi-site evaluation that will assess the impact and effectiveness of COVID-response emergency rental assistance (ERA) programs in selected sites.
Results from this study will be used to assess the impact of ERA on tenants, inform program development and on-going implementation, and guide policy recommendations related to the need and provision of emergency rental assistance beyond the pandemic.
The evaluator selected through this RFP process will work with the NLIHC ERASE team to conduct a participant level analysis. The overall goals of the participant-level analysis are to:
Understand the characteristics and the need of households requiring emergency rental assistance.
Measure the impact of ERA on short- and intermediate-term tenant outcomes.
Understand the tenant experience with the emergency rental assistance program.
Please access the full RFP here.
To respond to this RFP, please submit your proposal and all required documents to [email protected] by no later than 5:00 p.m. ET on November 19, 2021. Please send questions related to the RFP to [email protected] by November 10, 2021.
ERASE State and Local Call to Action
Cities and states across the country are creating or expanding emergency rental assistance programs to support individuals and families impacted by the pandemic. While many states and localities are developing model programs utilizing Treasury guidance, not all programs are getting money out fast enough or to those most in need. Data shows that the communities most at risk for eviction are also the communities with the lowest vaccination rates, and, thus, are at greater risk for contracting COVID 19.1 States and localities need to work even harder to ensure that funds go to those most in need as quickly as possible. The ERASE Call to Action is designed to build momentum and provide direction to programs on strategies they can implement to ensure that emergency rental assistance gets to those with the greatest need.
NLIHC is asking state partners, local jurisdictions, and Emergency Rental Assistance Program (ERAP) administrators join us in a Call to Action. This Call to Action focuses on three key areas to ensure that ERAP is visible, accessible, and preventive:
1 Jin, Olivia, Lemmerman, Emily, Hepburn, Peter, and Desmond, Matthew. Eviction Lab. June 11, 2021. Neighborhoods with Highest Eviction Filing Rates have Lowest Levels of COVID-19 Vaccination (evictionlab.org)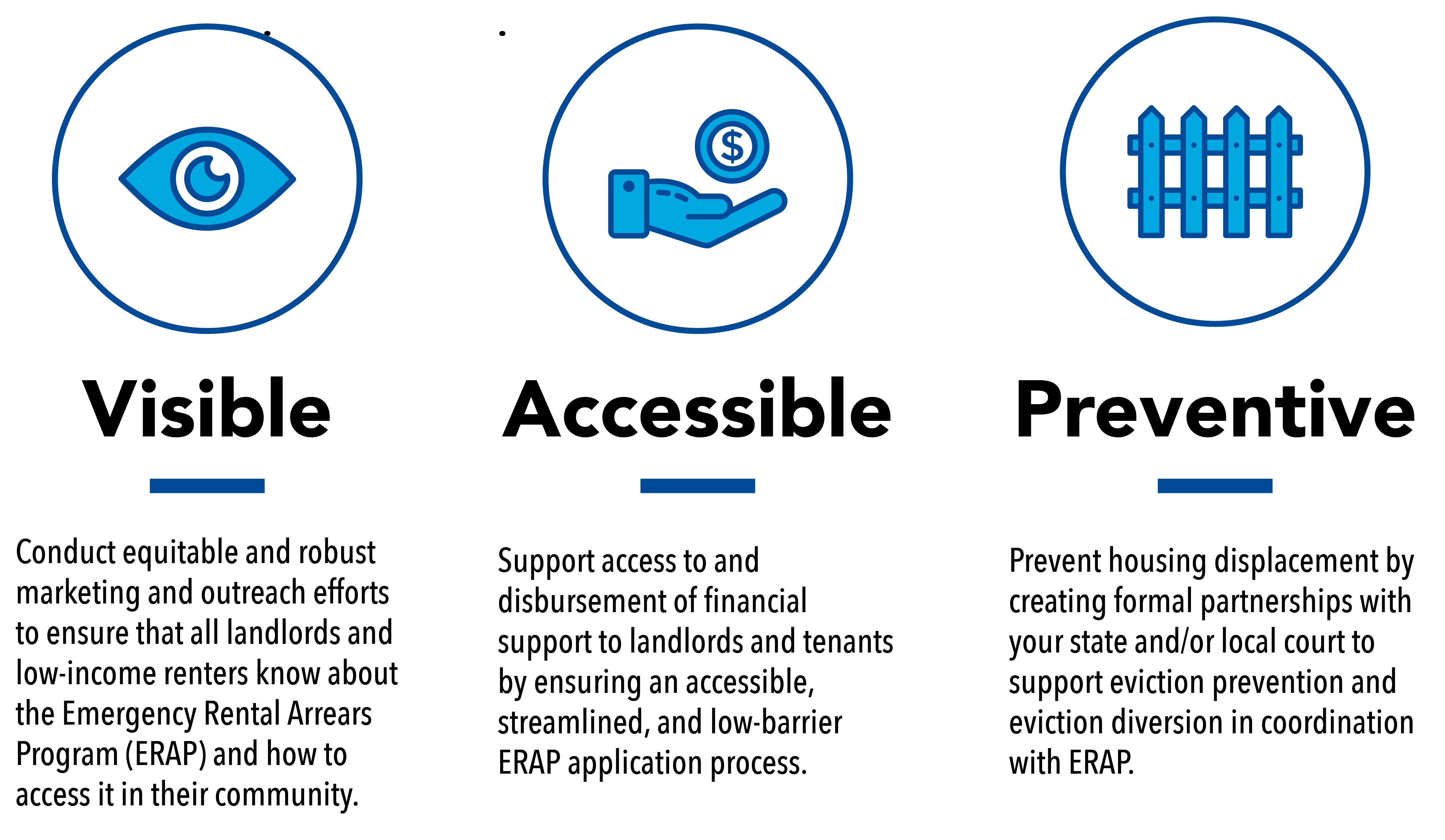 ​
ERASE Checklist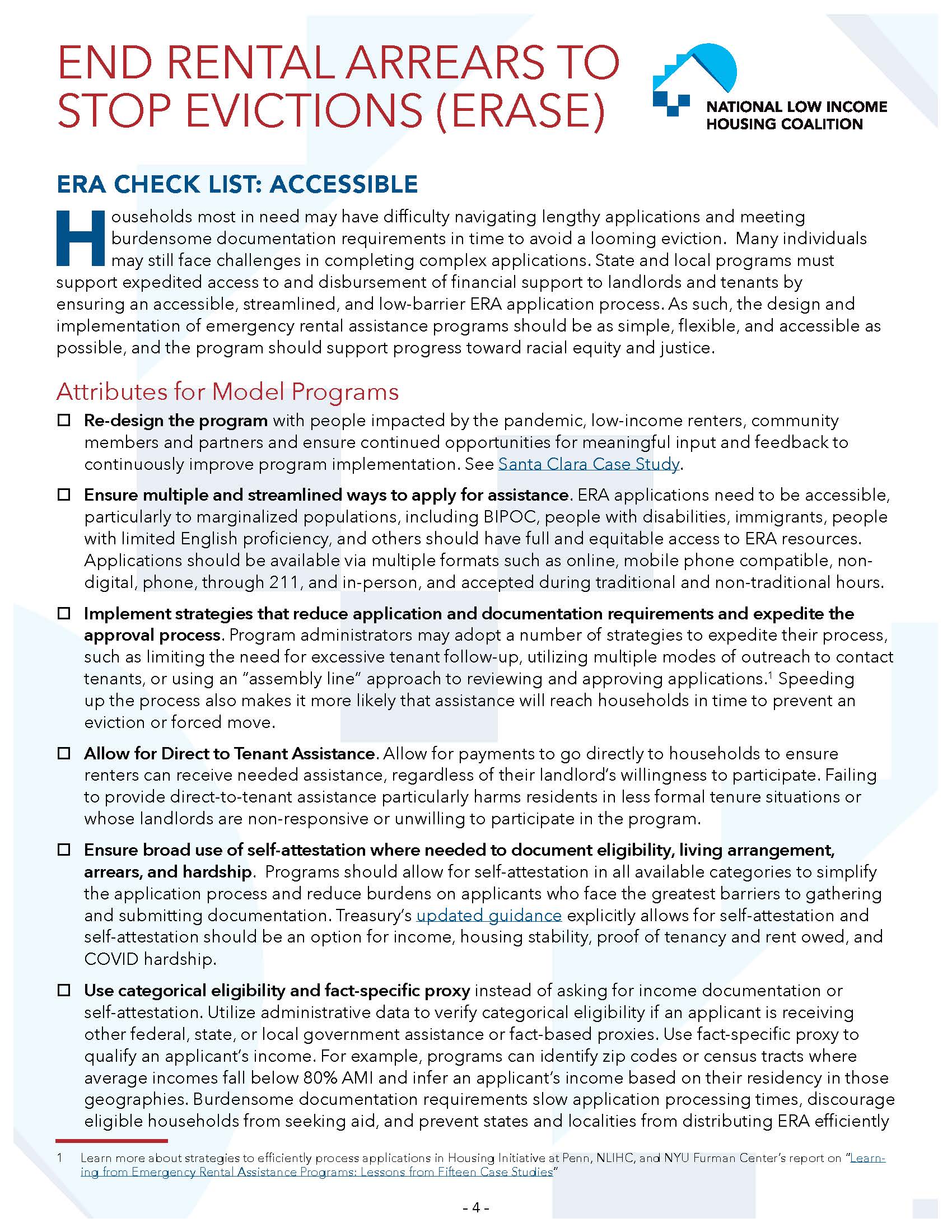 The ERASE Checklists are designed to help you make a quick assessment to determine if your emergency rental assistance program is visible, accessible, and preventive and to offer strategies for program design and implementation, partnership development and course correction.

 Click Here to View the Interactive PDF of the Report.
ERASE Assessment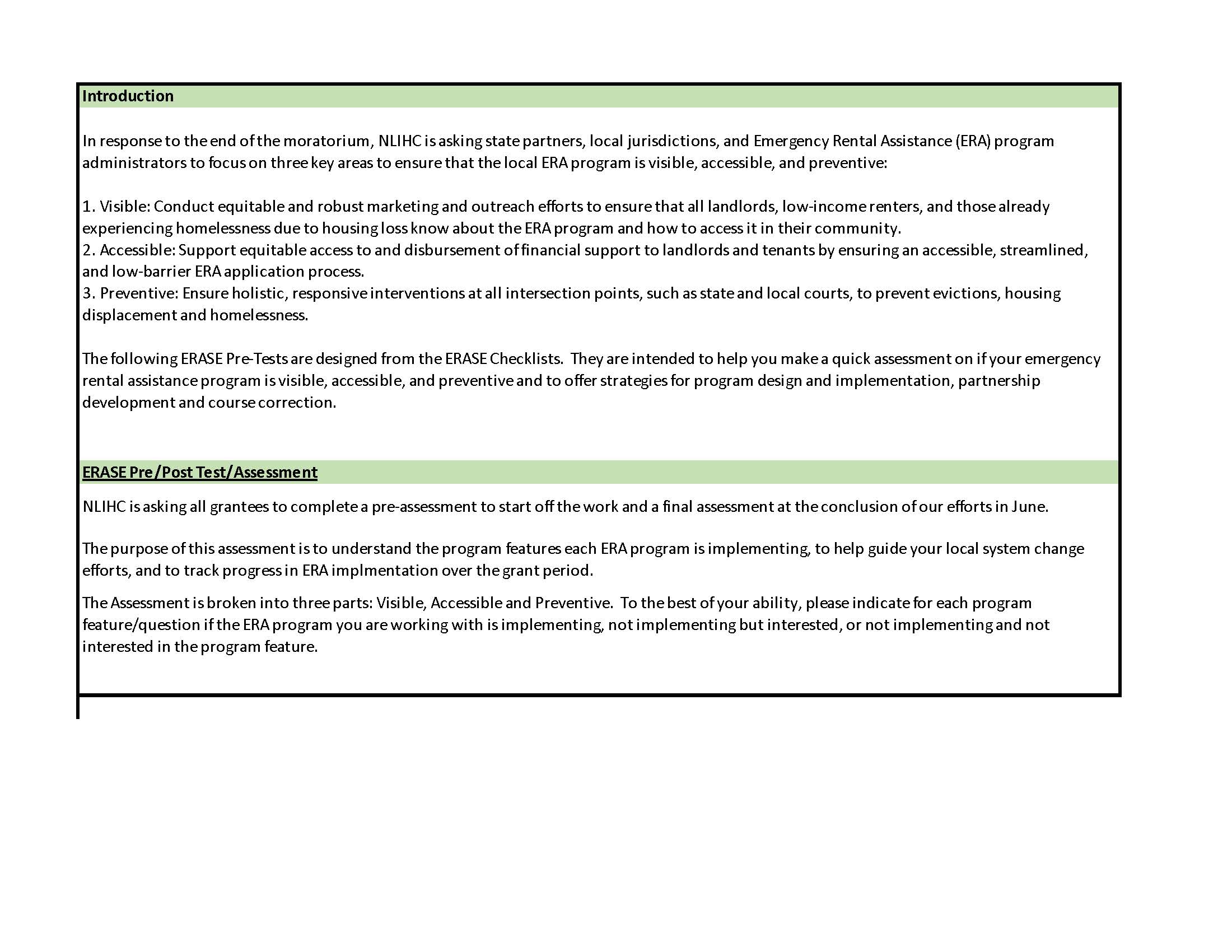 Building off the ERASE Checklist, the ERASE Assessment provides is a survey designed to help understand the program features each ERA program is implementation.  The ERASE Assessment can be helpful in guiding program improvement plans, local system change efforts, and in tracking progress in ERA implementation over time.
The Assessment is broken into three parts: Visible, Accessible and Preventive.  To complete the assessment, indicate for each program feature/question if the ERA program you administer or are working with is implementing, not implementing but interested, or not implementing and not interested in the specified program feature

 Click Here to View the Interactive PDF of the Report.
For more information, contact Sarah Gallagher, ERASE Senior Project Director, at [email protected].