Senator Baldwin Wants to Close Tax Loophole to Offset Lifting Sequester Caps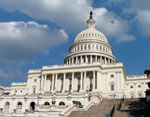 Senator Tammy Baldwin (D-WI) has proposed that Congress close the carried interest tax loophole in order to generate revenue needed to avoid damaging service cuts that could be forced by the budget sequester. Senator Baldwin is asking other Senators to join her in a letter to Senate leadership supporting closing the loophole and using the resulting savings to offset a portion of raising the sequester spending caps. On October 14, fifty-two national organizations including NLIHC, led by Americans for Tax Fairness (ATF) and Americans for Financial Reform (AFR), sent a letter to Senators asking them to join Senator Baldwin.
Carried interest is a source of income to money managers, such as hedge fund managers, that is taxed as capital gains at a lower rate than salaries are taxed. Many people consider the tax treatment of carried interest unfair and contributing to income inequality.
The White House and Senate and House leadership are currently negotiating how to raise the sequester spending caps. Finding offsets to pay for increased spending is part of the debate. According to the ATF/ATR letter, closing the carried interest tax loophole would generate about $15.6 billion in savings over ten years. In his FY16 budget request, President Barack Obama seeks $76 billion more in FY16 funding than the caps allow, split equally between nondefense and defense discretionary spending.
"Allowing sequester cuts to move forward at this crucial time could do serious harm to the American economy and middle-class families. Closing the carried interest loophole would have a negligible impact on economic output, while taking a significant step towards sequester relief," Senator Baldwin's letter states.
"The carried interest loophole plays an important role in the growing gap between the richest 1% and everyone else in America. Consider that the top-25 hedge fund managers earned a total of $11.6 billion in 2014, a "bad" year, and $21.2 billion in 2013. By comparison, the country's 158,000 kindergarten teachers earn about $8.5 billion a year in total," the letter from national groups states.
Senators can join Senator Baldwin's letter by contacting Brian Conlan, brian_conlan@baldwin.senate.gov. The deadline for Senators to sign this letter is October 20.
Read the letter Senator Baldwin is circulating to her Senate colleagues at http://www.americansfortaxfairness.org/files/Baldwin-Carried-Interest-Letter-to-Leadership-10-5-15-DRAFT.pdf
Read the October 14 letter from 52 national organizations at http://www.americansfortaxfairness.org/files/ATF-AFR-Carried-Interest-Group-Sign-On-in-Support-of-Baldwin-S1686-52-signers.pdf