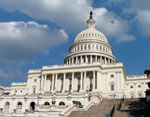 The ability of housing programs to serve low income people in need depends on federal appropriations. NLIHC monitors the federal budget process and advocate for the highest possible appropriations for HUD and USDA Rural Housing programs, while assuring sufficient funding to preserve all existing low income housing resources and prevent loss of units affordable to, or rental assistance for, extremely low income households.
Click Here to download the Letter that asks Congress to increase the 302(b) allocation in fiscal year (FY) 2016.
The White House released its FY16 budget request on February 2. Overall, the request seeks $49.3 billion for HUD, the largest amount this Administration has ever requested for the agency and $4 billion above HUD's enacted FY15 level. 
The House and Senate Budget Committees hold hearings in February to hear from Office of Management and Budget Director Shaun Donovan on the Administration's overall budget request. By sometime in March, the House and Senate are expected to consider their respective FY16 budget resolutions, which will set discretionary spending caps. The caps set by the House and Senate budget resolutions are expected to be at least as low, if not lower, than those set by the 2011 Budget Control Act for non-defense discretionary programs.
After the House and Senate agree on spending caps for FY16, appropriators will divide the maximum spending amount among the 12 appropriations subcommittees in what is referred to as "302b allocations." Then, the members of the House and Senate Appropriations Subcommittees on Transportation, Housing and Urban Development, and Related Agencies will set to work to craft their FY16 spending bills, likely sometime in late April, May, or June.
Check here for updates, analysis and tips for advocates. 
For more information about the budget, contact Linda Couch, Senior Vice President for Policy, at linda@nlihc.org or 202.662.1530 x228. Members of the media should contact Sheila Crowley, President & CEO, at sheila@nlihc.org or 202.662.1530 x226.
---
Materials from Campaign for Housing and Community Development Funding April 27, 2015 briefing on FY16 HUD and RHS funding.
---
NLIHC Webinar on Federal Budget 
Originally Aired April 21, 2015
This webinar focuses on  on what the recent budget resolutions and the sequester caps could mean for FY16 for HUD and USDA Rural Housing Service programs, and what advocates can do to engage Congress to protect critical programs.
Click Here to View the Powerpoint Slides (PDF)