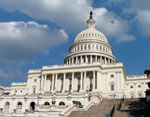 The ability of housing programs to serve low income people in need depends on federal appropriations. NLIHC monitors the federal budget process and advocates for the highest possible appropriations for HUD and USDA Rural Housing Service programs, while assuring sufficient funding to preserve all existing low income housing resources and prevent the loss of units affordable to, or rental assistance for, extremely low income households.
For more information on foreclosure intervention, contact Elayne Weiss, Policy Analyst, at eweiss@nlihc.org or 202.662.1530 x243. Members of the media should contact Renee Willis, Vice President for Field and Communications, at 202.662.1530 x247 or rwillis@nlihc.org.
If you would like to print any of these pdfs, you will have better results if you download the pdfs to your desktop, open the pdf in Acrobat Reader, and print from Acrobat.  To download Acrobat Reader, click here: https://get.adobe.com/reader/
---
Caps Hurt Communities Webinar on the Federal Budget:
Spending Caps, Budget Negotiations, and the Impact on Housing and Community Development in Your Community
Originally Aired October 19, 2015 
Join organizations from across the nation to learn more about the #CapsHurt Communities fall campaign to raise spending caps, how a year-long Continuing Resolution would impact affordable housing and community development programs, and what you can do to engage your local media by sharing stories of the impact on your community.
Click Here to View the Powerpoint Slides from the Webinar (PDF)
Click Here to View the Webinar Recording (YouTube Video)
---
Materials from Campaign for Housing and Community Development Funding April 27, 2015 briefing on FY16 HUD and RHS funding.
---
NLIHC Webinar on Federal Budget 
Originally Aired April 21, 2015
This webinar focuses on  on what the recent budget resolutions and the sequester caps could mean for FY16 for HUD and USDA Rural Housing Service programs, and what advocates can do to engage Congress to protect critical programs.