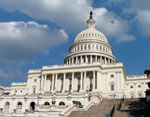 Despite not having a budget resolution setting a topline spending amount for FY17, the Senate Appropriations Committee has moved ahead and released funding allocations for each of the 12 appropriations subcommittees, otherwise known as 302(b) allocations. Senate appropriators assumed that the topline number for spending in FY17 would be $1.07 trillion, the amount agreed to in last year's budget deal.
The Transportation, Housing and Urban Development (THUD) Subcommittee's allocation is $56.474 billion, about $1 billion less than the FY16 final appropriation. This represents the largest cut among the twelve subcommittees. HUD needs approximately $1 billion in additional funding this year compared to FY16 just to maintain current program levels and renew existing rental assistance contracts. The Senate THUD Subcommittee will vote on its funding bill on April 19 at 10:30am ET in Dirksen Senate Office Building room 192.
Majority Leader Mitch McConnell (R-KY) is eager to take up appropriations bills to show that his party can govern under regular order. "I'm prepared to devote up to 12 weeks to this," said Senator McConnell. "If all of us, on a bipartisan basis, want this committee to become functional again, let's do it. Let's take these bills to the floor, get them processed, and get presidential signatures."
Meanwhile, House Appropriations Chair Hal Rogers (R-KY) hopes that his committee will approve all of its 12 spending bills by late June. Unlike in the Senate, Chair Rogers has declined to release 302(b) allocation levels for each subcommittee, creating significant uncertainty among subcommittees as they prepare spending bills. Despite this, some House subcommittees have already begun voting on appropriations bills, including the bill that funds rural housing (See separate article in this Memo to Members).
However, without a budget resolution, the House Appropriations Committee cannot move any bills to the House floor until May 15, when they are permitted to do so under current law. Speaker of the House Paul Ryan (R-WI) continues to indicate he is working towards agreement on a budget resolution and is unlikely to allow bills to be considered on the House floor without one (see separate article in this Memo to Members).
Senate 302(b) allocations are available at: http://1.usa.gov/1TVELMU
More information on the Senate THUD Subcommittee upcoming vote is at: http://1.usa.gov/1RZiahh