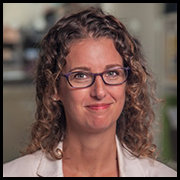 Diane Yentel, NLIHC President & CEO
This weekend, President Donald Trump tweeted from a private golf course to attack the integrity and hard work of a Latina mayor whose city is facing a humanitarian crisis. To paraphrase (but not by much) he called her, and Puerto Ricans generally, lazy and unable to help themselves. "They are not able to get their workers to help ...they want everything done for them," he tweeted.
This shameful attack belies not only the degree to which Mayor Carmen Yulin Cruz and the people of Puerto Rico are working diligently to recover from the direct hit of category 5 Hurricane Maria, but also the depth of need for a massive federal response. Nearly two weeks after Hurricane Maria hit Puerto Rico, over 3 million Americans have no electricity and 55% of them have no drinking water. Early estimates show upwards of 90% of homes on the island - over 800,000 – are damaged or destroyed. 
Reports from leading affordable housing providers in Puerto Rico, such as Pathstone Corporation, Volunteers of America, and Mercy Housing, who have been in contact with staff and others on the island, are bleak.  Many staff in their Puerto Rico offices have lost their homes. While some affordable housing developments seem to be structurally sound after the storm, the facilities are running low on fuel to run their generators for residents that sheltered in place during the storm. High heat, no electrical service, limited water, little food, and few if any supplies in stores make daily life extremely challenging. Supplies are beginning to come into the ports but local distribution is chaotic and few, if any, commercially licensed drivers are available, so thousands of shipping crates full of supplies remain on the docks.
Staff of the nonprofit housing providers and local HUD offices are making extraordinary efforts to keep housing facilities open, account for all residents, and assess the damage to homes, but they can only do so much. A robust federal response is necessary to complete the initial relief work and begin assisting Puerto Rico and the US Virgin Islands on the long road to recovery and rebuilding. NLIHC is circulating a letter urging the federal government to act immediately to equip Puerto Rico and the Virgin Islands with the necessary resources to begin that work. You can read and sign the letter here. The deadline to sign is end of the day tomorrow, October 3.
Meanwhile, Texans are working to recover from Hurricane Harvey, and communities in Florida are doing the same after Hurricane Irma. In Texas, NLIHC state partners Texas Low Income Housing Information Services, Texas Homeless Network, Texas Association of CDCs, and others are working with state and local partners to ensure a complete recovery for the lowest income people and communities. The official damage assessments have not yet been completed, but it is clear there is extensive housing damage in Houston, Port Arthur, Beaumont, and other communities. 
Several thousand low income people remain in mass evacuation shelters throughout Texas, with no alternative housing assistance available to them, and thousands more are staying in hotels. The State of Texas has been called upon to devise a housing program for Harvey survivors since neither FEMA rental assistance nor direct housing assistance are sufficient to meet the tremendous needs. While HUD is prepared to stand up a Disaster Housing Assistance Program (DHAP), as it has done successfully after previous disasters, FEMA is incomprehensibly refusing to assign the medium-term housing assistance work to HUD, instead repeating many of the mistakes made after Hurricane Katrina, at the expense of low income and vulnerable households in immediate need of longer-term housing assistance.
Significant challenges exist in Florida, too. Advocates and news outlets are reporting that disaster shelters are segregating people who were homeless prior to the storm (requiring that they wear yellow wristbands) from those who became homeless as a result of it. There are also reports that shelters have been checking for outstanding arrest warrants, causing some to forgo any assistance. Some households that were provided transitional housing assistance from FEMA ended up being displaced a second time when they discovered the homes they were relocated to were uninhabitable or unsuitable for their needs.
Major problems are arising with FEMA's Transitional Shelter Assistance (TSA) in Miami, Jacksonville, and rural areas both because not enough hotels have been participating in the TSA program and because some hotels have terminated their participation in the program. Some hotels that do participate charge evacuees resort fees of $25 per day (which FEMA will not pay) or charge rates greater than the TSA voucher amount. Some also require deposits (up to $200) and credit cards. All of these are major obstacles for the lowest income evacuees with no ability to pay extra fees.
FEMA seems to lack an understanding of the degree to which these extra fees inhibit low income people from receiving needed temporary shelter. In response to concerns about barriers for low income households with no ability to pay extra fees or higher rates in accessing temporary shelter, FEMA replied, "While this is not a FEMA TSA requirement, hotels are able to use their normal business practices.  If an applicant would have difficulty getting a room normally because they do not have [money for a deposit or extra fees, a credit card, higher rates] the same issues would apply for TSA."
In the Florida Keys, where trailers and apartments that are home to many of the area's low wage workers were destroyed, FEMA has so far delivered 10 of the 1,700 travel trailers and 7,500 mobile homes requested by the Monroe County government. The county has requested that FEMA increase the maximum allowable assistance for temporary rent to allow displaced families to live temporarily in vacant, but more expensive, vacation homes. This is yet another example of the immediate need for FEMA to stop stalling and to allow HUD to administer its DHAP program, which is equipped to respond to regional and local differences in housing costs.
The suffering and urgent needs across Texas, Florida, Puerto Rico and the Virgin Islands make clear the tremendous work ahead both to temporarily shelter those in need and to rebuild communities.  NLIHC leads the Hurricane Housing Recovery Coalition, made up of over 200 local, state and national groups dedicated to a just, equitable and complete recovery from the storms. Last week, over 500 organizations joined the Hurricane Housing Recovery Coalition in sending comprehensive hurricane housing recovery recommendations to Congress, HUD and FEMA, urging immediate action, robust resources, and careful oversight to ensure low income people and communities get the resources necessary to recover.
It is deeply unfortunate that the president has chosen to respond to this national emergency with more divisive tweets. It is time for Congress to show bipartisan leadership to make certain that federal disaster recovery resources reach all impacted households, including those with the lowest incomes who are often the hardest hit by disasters and have the fewest resources to recover afterwards. Millions of Americans in desperate need are waiting.