Boston Housing Activists Secure Passage of Just Cause Eviction Law
Jim Brooks Community Stabilization Act Passes City Council, Now Must Head to State Legislature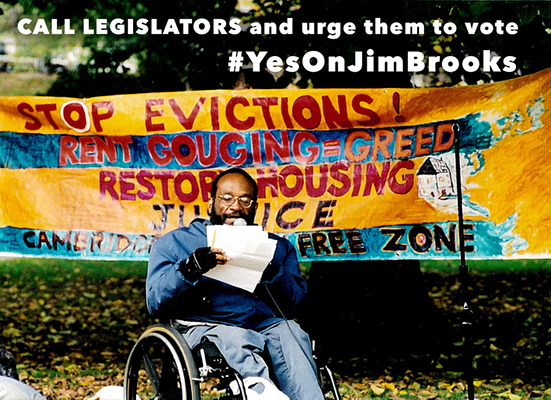 Jim Brooks. Photo:
Right to the City Boston, www.justcauseboston.org
Like many cities across America, the Boston metro area for decades has faced waves of redevelopment and gentrification that can lead to renters being evicted from their homes and displaced from their communities. Too often, the twin problems of eviction and displacement hit hardest on the lowest income people and on the people who have lived in their communities for sometimes multiple generations.
Some jurisdictions turn to rent control as a tool for protecting renters who might otherwise face unaffordable increases in their monthly rent. Unlimited rent increases often lead to a higher likelihood that renters experience eviction and displacement. A 1994 Massachusetts statewide referendum, however, struck down rent control. As an alternative measure, Boston housing activists and advocates have organized around the issue of just-cause eviction, which means legally defining limits on the specific instances when a tenant can be evicted.
"The Jim Brooks Act is a basic yet crucial piece of legislation. It will fix the city's blindspot on eviction data, ensure tenants know the rights and resources available to them, and protect homeowners from eviction. It's absolutely necessary in stopping Boston's displacement crisis and keeping low income neighborhoods of color intact." —Helen Matthews, communications coordinator for City Life/Vida Urbana.
Led by City Life/Vida Urbana (CL/VU) and Right to the City Boston, renters successfully organized to pass a just-cause eviction ordinance in October 2017. The ordinance is known as the Jim Brooks Community Stabilization Act, named in memory of a recently departed CL/VU organizer who was a well-known, lifelong activist for disability rights, tenants' rights, and other causes. The law defines nine cases in which a tenant may be evicted from their home, including non-payment of rent, violation of a tenancy agreement, and refusal to sign a lease. The measure requires that landlords inform the city's Office of Housing Stability (OHS) of intent to evict a tenant at the same time the landlord informs the tenant OHS then informs the tenant of their rights and shares community resources that may be able to help keep them in their homes. Failure to notify OHS of intent to evict a tenant would void that landlord's right to proceed with the eviction. The measure was introduced in the City Council by Mayor Marty Walsh in December 2016, and it passed the council by a 10-3 vote ten months later.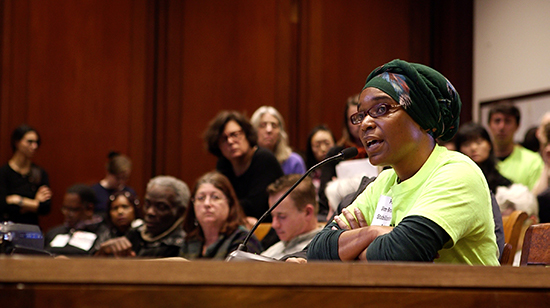 Lisa Owens, CL/VU Executive Director, testifying at the Massachusetts Legislature Joint Committee on the Judiciary hearing in support of the Jim Brooks Act, January 30, 2018.
Passage of the Jim Brooks Act comes after 3 years of organizing activity. Organizing strategies included door-knocking in communities across Boston, allying with grassroots organizations in other issue areas, holding public rallies, contacting elected officials, and delivering testimony at City Council hearings. Due to Massachusetts's statewide preemption of landlord-tenant law, the Jim Brooks Act must be approved by the full state legislature before it can be implemented at the city level. CL/VU has continued its advocacy on this issue in 2018 by mobilizing its field of renters and allies to contact their state legislators and attend committee hearings on the Jim Brooks Act. As this issue of Tenant Talk goes to print, CL/VU is seeking swift approval of the Act in the Massachusetts Statehouse.
---
Renter Protections for Immigrants: California Establishes a New Standard
In a time when the rights of immigrants seem to be constantly threatened, one state has taken decisive action to protect non-citizens who are renters. The California legislature passed the Immigrant Tenant Protection Act in September of 2017. This new law expands protections for immigrant renter households from being harassed, discriminated against, or illegally evicted.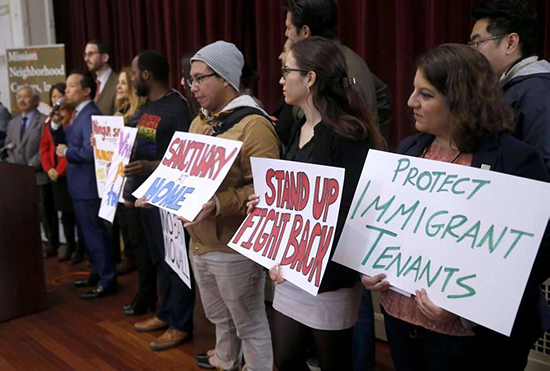 Advocates join Assemblymember David Chiu to announce the introduction of the Immigrant Tenant Protection Act.
Introduced by Assemblymember David Chiu (D), the Immigrant Tenant Protection Act addresses concerns that landlords are threatening to expose renters who have undocumented immigration status by reporting them to law enforcement or Immigration and Customs Enforcement. Landlords often have used immigration status questions to intimidate renters and prevent them from seeking to enforce their rights by contacting building inspectors about habitability concerns or by contesting eviction and other disputes in court.
Landlords have unique access to a large amount of personal information about renters, like financial backgrounds, Social Security numbers, and employment status. Landlords also know what languages their tenants speak and sometimes even have information about a tenant's schedule, knowing when they are most often found at home. This information can be valuable to immigration enforcement officials, making the landlord relationship a vulnerability for the renter. The Immigrant Tenant Protection Act bans landlords from ever reporting this personal information.
The new law also prevents attorneys from asking about immigration status when a renter appears before the court for any matters related to housing situations. This protection prevents lawyers from intimidating renters away from suing landlords to enforce their rights.