The #CapsHurt Twitterstorm is Over! What's Next?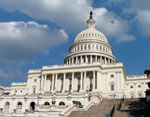 You've survived the Twitterstorm that swept through social media at the end of July, but now is not the time to let up on other activities integral to the Caps Hurt Communities campaign. It is urgent that advocates meet with their Representatives and Senators during the August recess to tell them to end the sequester and properly fund HUD programs. Then send us photos and other information about those meetings.
You and fellow housing advocates tweeted 530 times since the beginning of the Caps Hurt Communities campaign. Because of you, the #CapsHurt content reached approximately 350,000 people. In fact, the combined number of times people may have viewed the content is 1.5 million. That's impressive – all thanks to you!
The Caps Hurt Communities Campaign of the Campaign for Housing and Community Development Funding (CHCDF) needs your help. The www.capshurtcommunities.org website has a toolbox full of great resources to help you schedule and plan meetings with your elected representatives to educate them about the importance of affordable housing and how sequester budget cuts hurt low income families.
We know that you are taking advantage of the Congressional recess because you've told us. But, we'd like you to show us, too, by sending photos of your meetings. Your stories, embellished with your photos, will help bring additional momentum to the campaign.
Photos from past meetings are available in the Caps Hurt Communities Photo Gallery.  We are calling on all advocates to send photos and information related to their meetings to outreach@nlihc.org so that fellow advocates can learn from each other about the kinds of activities taking place and the progress we are making in the Caps Hurt Communities campaign.
CHCDF is an education, strategy, and action hub for national organizations dedicated to adequate federal housing and community development funding for lower income families and communities. The campaign website www.capshurtcommunities.org has more details about how you can participate. Participants of the campaign are encouraged to spread the word about the campaign on social media using the hashtag #CapsHurt.
NLIHC's 2015 Advocates Guide, at http://nlihc.org/library/guides, is a valuable resources for suggestions about scheduling a meeting with a member of Congress. Check out the "Congressional Advocacy and key Housing Committees" section of the Advocates' Guide.