NLIHC and Partners Launch "Caps Hurt Communities" Campaign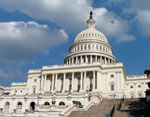 Caps Hurt Communities is a new campaign to build a movement committed to bringing an end to federal sequester caps, and to increasing resources for decent, safe, and affordable housing and for community development. The Campaign for Housing and Community Development Funding (CHCDF), a coalition of national organizations dedicated to full federal housing and community development funding for lower income families and communities, recently launched this initiative by unveiling the website www.capshurtcommunities.org.  
The Campaign focuses on four core messages:
America is stronger when we have decent, affordable homes, and stable communities;
Families and neighborhoods thrive because of housing and community development investments,
People and communities should not suffer due to a budget gimmick that does not solve the federal deficit, and
Congress must lift spending caps to protect homes, families, and communities.
This summer advocates across the country are asked to mobilize by:
Joining the Caps Hurt Communities Campaign at www.capshurtcommunities.org,
Joining the fight against sequestration by signing on to a letter calling for an end to sequestration at http://nlihc.org/issues/participation/ndd_letter.
Participating in the #CapsHurt "Twitterstorm" during the week of July 27.
Scheduling in-district and in-state meetings with your U.S. Representatives and Senators between now and September 7.
Contacting Congress during National Call-In Days scheduled for September 15 and 16.
Writing Op-Eds and Letters to the Editor.
Sharing your work by sending photos and stories to outreach@nlihc.org. We will use this material to update www.capshurtcommunities.org and inspire others to take action.
For additional information regarding the Campaign, go to www.capshurtcommunities.org where you can join the Campaign and receive updates. Advocates are also encouraged to contact NLIHC's Field Team at outreach@nlihc.org for more information and assistance with advocacy efforts.