NLIHC President and CEO Sheila Crowley Announces Retirement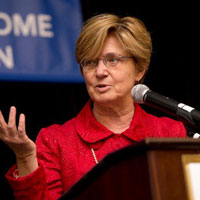 After 17 years as President and CEO of the National Low Income Housing Coalition, Sheila Crowley announced her retirement in a press release issued September 22 (See Press Release, 9/22). Sheila will continue with NLIHC through April 2016 to ensure a smooth and successful transition for her successor.
Brenda Clement, NLIHC Board Chair, commended Sheila for her devotion to NLIHC's mission and noted that Sheila's leadership has been "instrumental in shaping NLIHC to the force for change that it is today." "Sheila has developed partners and champions on both sides of the aisle, within Congress, multiple Administrations, and with thousands of low income housing advocates across the country," said Ms. Clement in her statement. "She has established, cultivated, and solidified the reputation of NLIHC as a trusted source of information for policymakers in Washington, DC and the members we serve. NLIHC is well positioned for continued success due in large part to Sheila's leadership and vision."
The NLIHC Board of Directors has formed a Search Committee, composed of Ms. Clement, six current board members, and George Moses, who was the Board Chair from 2006 to 2012. The board has engaged the consulting firm Nonprofit HR to facilitate the search. A job announcement will be released in the coming month.
For further information, as well as to provide recommendations to the Search Committee, please contact NLIHC's Executive Search Consultant, Patty Hampton, CSP, Managing Partner at Nonprofit HR via email at phampton@nonprofithr.com or 202-785-2060 ext. 103.