September is NLIHC Membership Month, Join the "I'm an NLIHC Member" Photo Gallery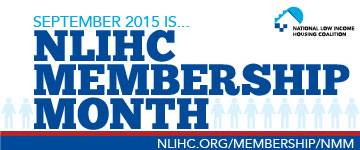 In celebration of NLIHC Membership Month, we invite all of our members, both new and old, to send us a photo of yourself holding a placard with a brief message stating why you are a member of NLIHC.   
For example, your message may read: "NLIHC Works for Housing Justice," "Home is Foundation. #JoinNLIHC" or "Housing is a Human Right. #JoinNLIHC." We will publish your photos on our social media platforms to encourage others to join NLIHC and post a membership photo collage  at the end of the month,. Please send your photos to: msakbar@nlihc.org or tweet them using the hashtag #JoinNLIHC.
Here are a few additional ways you can help during Membership Month: 
Become a Member:  If you're not a NLIHC member, please join. Click here to join.
Recruit Others: Recommend NLIHC membership to your family, friends and colleagues. Please go to (and refer others to) the Membership Month web page at http://nlihc.org/membership/nmm.  Be sure to ask new members to enter your name in the referral box on the form so that we can thank you for any new memberships you refer.  Also on this page, you'll find sample tweets and Facebook posts you can use to encourage folks in your social network to join NLIHC. 
Show Your Support via Social Media:  Change your Twitter and Facebook background to let everyone in your social media network know that you support NLIHC's work and that membership is important to you.
Additional information about how you can join NLIHC, recruit new members, and download the graphics for your Twitter or Facebook pages is at www.nlihc.org/membership/nmm. Should you need additional assistance, please contact NLIHC's Field team at outreach@nlihc.org.