Sign-On Letters Support HOME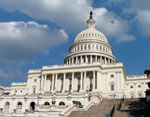 The HOME Coalition is circulating a sign-on letter to Congressional leaders urging a bipartisan budget agreement to lift the sequester spending caps and to fund the HOME Investment Partnerships (HOME) program at President Barack Obama's FY16 request of $1.06 billion.
The letter states, "We were deeply concerned by the House and Senate approaches to funding HOME in FY 2016. The House bill does nothing to restore cuts HOME has suffered in recent years and only provides $767 million in appropriated funds, down from $900 million in FY 2015 and 58% less than in FY 2010. The bill also contains a highly objectionable transfer that would essentially eliminate a new housing resource—the National Housing Trust Fund—in an attempt by the Appropriations Committee to fund HOME at its record low $900 million level. The Senate bill's severe cuts in HOME funding amount to a shocking 93% decrease, which would essentially eliminate the program altogether."
National, state, and local groups, as well as government officials, are encouraged to sign the letter. The deadline for signing is Friday, July 24. NLIHC has signed the letter.
On July 13, NLIHC joined a letter spearheaded by the National Housing Conference that was joined by more than twenty organizations representing a wide range of housing stakeholders. This letter to Congressional leaders urged them to lift the sequester spending caps that now jeopardize federal housing programs' ability to serve the country's most vulnerable households.
As the letter states, "A prime example of the damaging consequences of the budget caps and any THUD spending bill created under those limitations is the HOME program, which the recently advanced Senate THUD bill would fund at $66 million, only 7% of last year's level. Such low funding would effectively terminate the HOME program. This funding cut is especially egregious given the 9.6 million working households spending more than half of their income on housing. With a budget agreement and a return to real investment in housing programs, including adequate funding for HOME, Congress has the opportunity to address the growing housing affordability challenges in this country. Without a budget agreement, vulnerable populations will continue to suffer and housing programs will fall drastically short of need, which weakens communities and restricts economic growth."
Sign on to the HOME Coalition letter at http://salsa3.salsalabs.com/o/50954/p/dia/action3/common/public/?action_KEY=17145
Read the coalition letter led by NHC at http://www.nhc.org/NHC%20budget%20sign-on%20letter.pdf
More information about the HOME program is on page 5-11 of NLIHC's 2015 Advocates' Guide http://nlihc.org/sites/default/files/Sec5.04_HOME-Investment-Partnerships_2015.pdf