Stepped Up Advocacy for HOME Program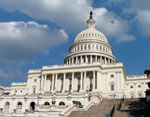 On October 28, the HOME Coalition held a Congressional briefing sponsored by Senators Patrick Leahy (D-VT) and Chris Coons (D-DE) to release of a new report showing the HOME Investment Partnerships Program's impact on families and communities nationwide. The HOME Coalition is made up of national organizations, including NLIHC, which are advocating for funding for the HOME program.
The report was issued in response to the Senate Appropriations Committee's proposal to cut funding for the HOME program from its record low level of $900 million in FY15 to just $66 million for FY16, effectively eliminating the program. The House's the Transportation, Housing, and Urban Development (THUD) funding bill would cut HOME funding to $767 million for FY16, but maintain the FY15 $900 million funding level by raiding the National Housing Trust Fund  (NHTF) in 2016 and shifting NHTF dollars to HOME. The NHTF Campaign strongly opposes using NHTF dedicated revenue to pay for HUD-appropriated programs and is working to ensure the increased budget spending caps (see related article in this Memo to Members) will allow HOME to be adequately funded without raiding the NHTF.
The report states that "since HOME's authorization in 1990, $26.3 billion in HOME funds have leveraged an additional $117 billion in public and private resources to help build and preserve nearly 1.2 million affordable homes and to provide direct rental assistance to more than 270,000 families. The HOME Coalition estimates that this investment has supported nearly 1.5 million jobs and has generated $94.2 billion in local income."
The report emphasizes the HOME program's flexibility that allows local communities to tailor the use of program funds to meet their own particular affordable housing needs. Communities can use HOME for home rehabilitation, homebuyer assistance, rental housing development and rehabilitation, and tenant-based rental assistance. The report also highlights the key differences between the HOME program, CDBG and the National Housing Trust Fund. The report includes various HOME success stories from across the country, from Alaska to Louisiana.
At the briefing, Senator Coons said that his past experience working at the county level taught him the importance of the HOME program. He discussed how education, health, and safety are all tied to affordable housing and that funding HOME is a worthwhile investment towards address those issues. Senator Coons also mentioned that he has spoken to HUD Secretary Julián Castro about the need to restore HOME funding. While Senator Coons was cautiously optimistic about the budget deal that raises the sequester spending caps on defense and nondefense discretionary programs, he urged the Congressional staff in attendance to work to restore HOME funding, as they renegotiate the final program allocations in the THUD appropriations bill.
Panelists at the briefing included Bill Fogerty from the Pennsylvania Housing Finance Agency, Tony Gibbons from Blount County Habitat for Humanity, Jaqueline Alexander from The Community Builders, and Kathy Koch from Arundel Community Development Services. They spoke about of their experiences using HOME funds to develop affordable housing in their communities. Each speaker highlighted projects that would not have been possible without HOME funds. They pointed to positive impacts the HOME program brought to their communities in the form of new homes, which they said carry the extra benefit of encouraging future development, more jobs, environmental remediation, and a stronger tax base.
You can read the HOME Coalition report here: https://s3.amazonaws.com/KSPProd/ERC_Upload/0100911.pdf