House Financial Services Marks Up on FY17 Budget Views and Estimates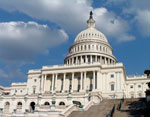 On February 2 and 3, the House Committee on Financial Services marked up its Views and Estimates on the FY17 budget, which is submitted to the House Budget Committee for consideration in preparing the FY17 budget resolution. The Views and Estimates calls for overhauling and modernizing HUD and criticizes the agency for being "overly bureaucratic" and failing to "deliver measurable results."
"HUD should be restructured to optimize the alignment of its various divisions and consolidate overlapping and duplicative programs, as well as to ensure the efficient utilization of its human capital," the document states. "Such reforms would both result in greater budget savings for taxpayers and allow for assistance to be targeted to individuals with the most acute need."
During the markup, Ranking Member Maxine Waters (D-CA) proposed an amendment on the state of homelessness in America. She stated, "I'm deeply concerned about the men, women, families, and youth who are homeless on our streets today. Homelessness affects the very fabric of communities and it is an economic issue as much as it is a social issue. We have to do more to ensure all homeless people have access to affordable housing and the social services that they so desperately need. The federal government cannot turn a blind eye. Congress has the responsibility to the people of this country to provide everyone with a safe, decent, and affordable roof over their heads."
Housing and Insurance Subcommittee Chair Blaine Luetkemeyer (R-MO) raised objections to some of the language in Ms. Water's amendment regarding the role of the federal government in addressing homelessness. She agreed to revisions, but both the original and modified amendments were voted down by party-line votes of 24 to 31 and 24 to 32.
Representative Ruben Hinojosa (D-TX) offered an amendment on the unique housing challenges facing rural communities. His amendment stated, "[R]ural communities have less access to decent and affordable housing, as well as access to affordable credit. Consequently, far too many rural families live in housing that is unaffordable, in substandard condition, or both. The Committee will be working diligently to ensure that moving forward the USDA's Rural Development Agency and Rural Housing Service (RHS) make a dedicated commitment to ensuring the prudent stewardship and efficient administration of rural development and housing programs." Mr. Luetkemeyer raised concerns about the RHS's oversight capabilities, but agreed to support Mr. Hinojosa's amendment. The amendment passed by a voice vote.
The Committee approved the Views and Estimates on a party-line vote of 33 to 24.
For more information on the mark-up, including text of the Budget Views and Estimates and amendments, as well as the archived webcast, go to: http://financialservices.house.gov/calendar/eventsingle.aspx?EventID=400204