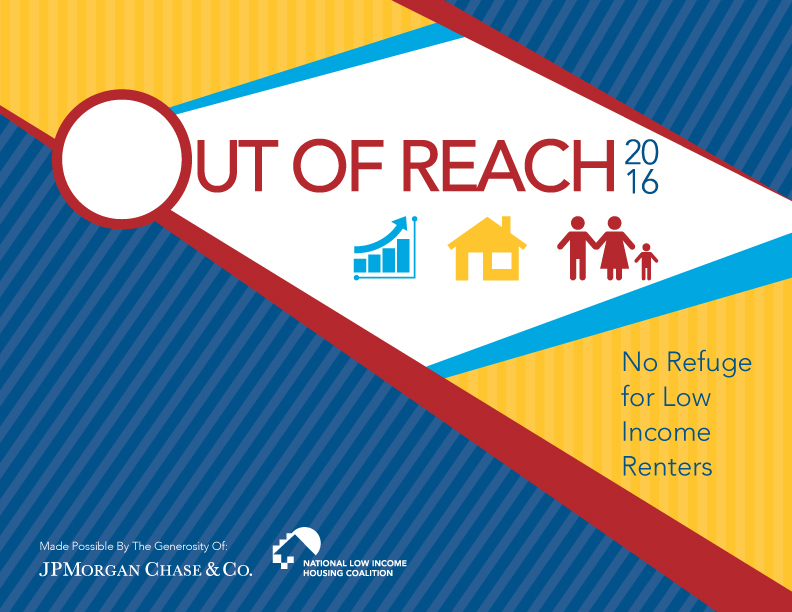 WASHINGTON, D.C. - In no state, metropolitan area or county in the United States can a full-time worker earning the prevailing minimum wage afford a modest two-bedroom apartment. A new report released today by the National Low Income Housing Coalition (NLIHC) reveals the disparity between rental housing costs and renter income in every jurisdiction across the country.
Out of Reach 2016: No Refuge for Low Income Renters, calculates the housing wage – the hourly wage someone working full-time, 40 hours a week, would need to earn in order to afford a modest apartment without spending more than 30% of household income on rent and utilities – for every state, metropolitan area and county in the country.
The report finds that in order to afford a modest two-bedroom apartment at fair market rent, a full-time worker in America today must earn $20.30 per hour—a figure that is almost $5 more than the average hourly wage of renters in the U.S. A full-time worker needs to earn $16.35 per hour to afford a modest one-bedroom apartment.
A worker earning the federal minimum wage of $7.25 per hour would need to work 2.8 full time jobs, or approximately 112 hours per week for all 52 weeks of the year, in order to afford a two-bedroom apartment at HUD's Fair Market Rent (FMR). If this worker slept for eight hours per night, he or she would have no remaining time during the week for anything other than working and sleeping.
"Out of Reach confirms that the housing situation for extremely low income households is especially dire," said Diane Yentel, president and CEO of NLIHC. "We face an alarming and increasing gap between the housing needs of our nation's lowest income households and what is affordable and available to them," she said.
According to the report, the top five most expensive states are:
Hawaii, with a two-bedroom housing wage of $34.22
California, with a two -bedroom housing wage of $28.59
New York, with a two-bedroom housing wage of $26.69
Maryland, with a two-bedroom housing wage of $26.53
New Jersey, with a two-bedroom housing wage of $26.52
"Tackling our affordability crisis isn't just the right thing to do — it's also one of the best ways we can invest in our nation's long term growth and competitiveness," wrote Julián Castro, Secretary of U.S. Department of Housing and Urban Development (HUD), in the report's preface. "This report confirms that investing in affordable housing — as HUD is doing by providing annual housing support for nearly 5.5 million households is one of the most important steps we can take to help people succeed today, and live healthier lives long into the future."
NLIHC advocates for modest reforms to the mortgage interest deduction that could save the federal government more than $20 billion each year. NLIHC proposes investing these savings into the national Housing Trust Fund (HTF)—the first new federal program in a generation to focus on housing for the lowest income renters. At least 90% of HTF funds must be used to build, preserve, or rehabilitate affordable rental housing for this population.
"The federal government has the resources to end the shortage of housing affordable to the lowest income families," said Ms. Yentel. "It is simply a matter of how those resources are allocated. Instead of subsidizing the mortgages of higher income people, we must invest in making rental housing more affordable and available to those most in need of assistance."
NLIHC received support from JPMorgan Chase to fund Out of Reach. "JPMorgan Chase is committed to driving more inclusive economic growth, but we must first understand the full scope of the challenges facing our communities," said Daryl Shore, Vice President, Community Development Initiatives, JPMorgan Chase. "That's why we are proud to support the National Low Income Housing Coalition's Out of Reach report once again. Its data on the shortage of affordable housing in America will inform and empower those focused on addressing this critical issue."
Extensive data for every state, metropolitan area, and county in the country are available online at www.nlihc.org/oor.  
---
Established in 1974 by Cushing N. Dolbeare, the National Low income Housing Coalition is dedicated solely to achieving socially just public policy that assures people with the lowest income in the United States have affordable and decent homes