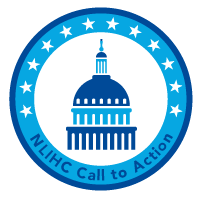 Call your Members of Congress and tell them to vote against the American Health Care Act that would cause 24 million people to lose health insurance and would cut Medicaid funding for supportive housing services that benefit people experiencing homelessness. After failing to secure enough support to pass the legislation yesterday, House leaders pushed back the votes until today, Friday, March 24.
H.R. 1628, The American Health Care Act of 2017, would eliminate important aspects of the Affordable Care Act (ACA) – including coverage of prescription drugs, maternity care, and mental health services. H.R. 1628 would also roll back Medicaid expansion and allow states to impose work requirements on Medicaid recipients. These changes would be devastating for low income households, especially homeless individuals receiving supportive services through Medicaid.
The bill's passage or defeat could come down to just a handful of moderate Republicans. It is critical that advocates call their members of Congress today – especially moderate Republicans who previously opposed the bill – to urge them to vote against H.R. 1628.
The target Congressional districts are:
AK-01     Young 
AZ-02     McSally 
CA-08     Cook 
CA-10     Denham 
CA-21     Valadao 
CA-25     Knight 
CA-49     Issa 
CO-06    Coffman 
FL-18      Mast 
FL-25      Diaz-Balart 
FL-26      Curbelo 
FL-27      Ros-Lehtinen 
IA-03      Young 
IL-16       Kinzinger
ME-02    Poloquin 
NJ-02     LoBiondo 
NJ-04     Smith 
NJ-07     Lance 
NV-02    Amodei 
NY-01     Zeldin 
NY-02     King 
NY-11     Donovan 
NY-24     Katko 
OH-05    Latta 
OH-06    Johnson 
OH-12    Tiberi 
OH-16    Renacci 
PA-05     Thompson
PA-06     Costello 
PA-07     Meehan
PA-15     Dent 
VA-02     Taylor 
VA-10     Comstock 
WA-03   Herrera Beutler 
Call your Members of Congress today to urge them to vote against H.R. 1628 and voice your support for the Medicaid expansion that serves the healthcare and housing needs of thousands of vulnerable Americans. 
For more information, see our Memo article on ACA repeal. 
Learn more about how Medicaid affects those most impacted by the affordable housing crisis here. 
Click here for an analysis of the bill from the Center on Budget and Policy Priorities. 
Thank you for your advocacy!