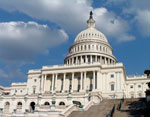 With just hours to spare before the deadline, Congress avoided a government shutdown by passing a short-term continuing resolution (CR) on December 9. The CR maintains the FY17 spending cap of $1.07 trillion and keeps the federal government funded through April 28, 2017. President Obama signed the bill into law early the next day.
The CR was approved by a vote of 63 to 36 in the Senate and 326 to 96 in the House. Lawmakers were able to reach a deal after weeks of negotiations. Some senators criticized the bill for failing to adequately extend health benefits for retired coal miners and forced Senate leadership to delay the bill's final vote.
The CR includes:
Small Across-the-Board Cut. To fit under mandated spending caps, the CR includes an across-the-board cut of 0.19% to funding levels for defense and non-defense programs.
Funding for Disaster Recovery. The measure includes more than $1.8 million in Disaster Recover Community Development Block Grants to help communities rebuild and repair damages caused by Hurricane Matthew and by the recent flooding in Louisiana, Texas, West Virginia and elsewhere.
Flint Aid. The legislation provides $170 million to help address lead contamination in Flint's drinking water. Of that amount, $15 million will go to the Centers for Disease Control's Childhood Lead Poisoning Prevention program to conduct screenings and referrals for children with elevated blood lead levels.
Additional Funding for Tribal HUD-VA Supportive Housing Program. The CR provides additional flexibility to the Tribal HUD-VA Supportive Housing (HUD-VASH) program to ensure it has enough funding to renew rental assistance grants and cover administrative costs.
USDA Guaranteed Multi-Family Housing Loan Program. The CR includes a provision giving the U.S. Department of Agriculture (USDA) flexibility to provide enough funding for approved loans under the Section 538 Guaranteed Multi-Family Housing Loan program.
"This continuing resolution is not a substitute for full-year appropriations, but it is necessary to sustain the operations of the federal government until we can complete consideration of the remaining FY2017 appropriations bills," said Senate Appropriations Chairman Thad Cochran (R-MS).
Now lawmakers must negotiate another budget deal - either a full-year CR or final spending bills - to keep the government operating until September 30, the end of the 2017 fiscal year.
Some conservative members of Congress are urging their leadership to enact cuts to federal spending levels in any final bill. If these efforts are successful and the final spending bill is set at last year's levels, more than 100,000 housing vouchers could be lost.
Learn more about the impacts of a CR set at FY16 levels at: http://bit.ly/2aK61e1