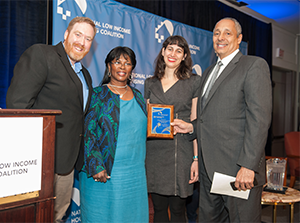 The National Low Income Housing Coalition (NLIHC) awarded its 2016 Organizing Award to the Washington D.C. based Coalition for Nonprofit Housing and Economic Development (CNHED), an NLIHC state coalition partner, for its Housing for All Campaign. The award was presented on Sunday, April 3, at NLIHC's Housing Policy Forum. The Organizing Award recognizes outstanding achievement in state or local organizing activity that furthers NLIHC's mission: achieving socially just public policy that assures people with the lowest incomes in the United State have affordable and decent homes.
CNHED was selected for this award because of its impressive grassroots Housing for All Campaign that shined a light on the lack of housing affordability in the District of Columbia. The campaign has achieved more than $365 million in affordable housing investment and helped institute changes in how affordable housing is funded in the District. Launched in 2011 by the 140-member CNHED, the Campaign has organized over 4,000 supporters to take action. This demonstration of power and commitment turned the tide from a loss of funding to unprecedented investments in affordable housing.
Stephen Glaude, executive director of CNHED, and Elizabeth Falcon, the organization's director of housing policy, accepted the award at Sunday's ceremony, thanking NLIHC for recognizing and showcasing their work. "We are deeply honored and encouraged to be awarded NLIHC's Organizing Award. This award demonstrates that resident activism and dedicated practitioners, along with engaged public officials, can truly generate significant change. This award also serves as a reminder that much work still needs to be done to achieve affordable housing for low income residents," said Mr. Glaude.