The Massachusetts-based Citizens' Housing and Planning Association (CHAPA), an NLIHC state partner, hosted its third annual Housing Day at the State House in Boston on September 14. The group gathered more than 200 individuals and 45 organizations from across the state to advocate for legislative and budget priorities for affordable housing, homelessness prevention, and community development.
Founded in 1967 and celebrating its 50th anniversary this year, CHAPA is a leading housing policy and research organization in Massachusetts. CHAPA engages with key stakeholders across the affordable housing field—non-profit and for-profit developers, advocates, homeowners, tenants, lenders, property managers, and government officials—to advocate for comprehensive solutions to urgent housing and homelessness needs in the state.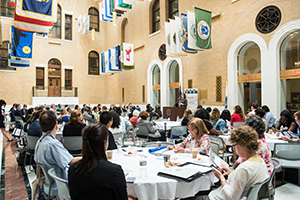 CHAPA CEO Rachel Heller Addresses Housing Day Advocates
The event was sponsored by the chairs of the Joint Committee on Housing, Senator Joseph Boncore (D-Suffolk and Middlesex) and Representative Kevin Honan (D-Suffolk). Speakers included CHAPA CEO Rachel Heller and Michael Durkin, president and CEO of the United Way of Massachusetts Bay and Merrimack Valley. Senator Linda Dorcena Forry (D-Suffolk) received the CHAPA Housing Hero Award for her record of dedication and support for affordable housing and homelessness prevention in the state. Attendees from across Massachusetts met with their state legislators and their staffs.
According to NLIHC's latest Gap: A Shortage of Affordable Homes report, Massachusetts has only 46 rental homes affordable and available for every 100 of its extremely low income (ELI) renter households, and 62% of the state's 293,638 ELI households are severely cost-burdened, paying more than 50% of their income on rent.  CHAPA's advocacy efforts during Housing Day and throughout the year focus on addressing this shortage of affordable homes and its consequences. "As housing costs continue to rise, housing instability remains a significant problem," said Ms. Heller. "Housing Day at the State House provides the opportunity for state legislators to hear directly from their constituents."
Advocates urged passage of the Housing Bond Bill, H.675, which would provide up to $1.7 billion in funding to preserve and modernize public and other affordable housing, and would also expand the statewide Low Income Housing Tax Credit. The group advocated for protecting affordable housing and homelessness prevention programs which face proposed cuts in the fiscal year 2018 State budget. Advocates promoted passage of the Housing Production Bill, (H.3845 in the State House and S.2131 in the State Senate) which aims to foster housing production through zoning reform, financial incentives, and removal of barriers to development. Housing Day participants also discussed the Great Neighborhoods Campaign (H.2420 State House and S.81 in State Senate) which proposes zoning and permitting reforms to create strong communities to better support families and seniors.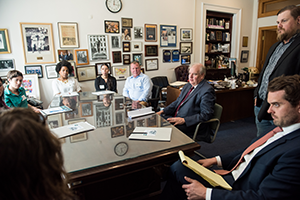 State Representative Kevin Honan Meets with Housing Day Advocates
With the threat of state budget vetoes by Governor Baker that would cut funding for key programs, CHAPA and its partners recognize that much work remains to defend statewide housing and homelessness initiatives. Housing Day represented an important opportunity to engage with elected officials and to make their presence known in the halls of the State Legislature. Offering closing remarks at Housing Day, State Representative Jeffrey Sánchez (D-Suffolk), who chairs the State House Committee on Ways and Means, stated, "We face a lot of challenges, but make no mistake: it's the engagement of people in their communities that makes an impact."
Click here for more on CHAPA's legislative priorities and its Housing Day, or contact Eric Shupin at: eshupin@chapa.org