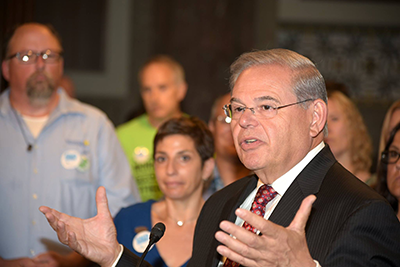 Senator Robert Menendez (D-NJ) Addresses Attendees at the NJ Hill Day
More than 350 advocates from New Jersey traveled to Washington, DC on July 13 for NJ Hill Day to meet with their congressional delegations at a reception hosted by the Housing and Community Development Network of New Jersey (HCDNNJ), an NLIHC state partner, Monarch Housing Associates, a longtime NLIHC member, and their statewide sponsors. Advocates lobbied in support of the HCDNNJ and Monarch Housing "No Housing Cuts" campaign, which urges Congress to sustain current funding for vital federal affordable housing and homelessness prevention programs. The reception included addresses by Senators Cory Booker (D) and Robert Menendez (D) and by Representatives or staff members from 11 of New Jersey's 12 congressional districts.
Advocates convened in the Dirksen Senate Office Building where local policy experts and constituents from each of New Jersey's 12 congressional districts who have experienced homelessness spoke about the critical need for affordable housing and shared their personal stories. Among the many who shared their experiences was Theresa Pringle, who has been homeless for a year and lives in a shelter in Newark in the district of Congressman Donald Payne, Jr. (D-10). In April, she had to leave the shelter where she was staying at the time and was forced to live on the street and along the river, moving from place to place. She then became part of an "underground" group of people staying in Newark's Penn Station. The mother of six children, Ms. Pringle said, "I don't wish [what I've experienced] on anybody." Congressman Payne thanked Ms. Pringle for her moving testimony and affirmed his strong support for affordable housing.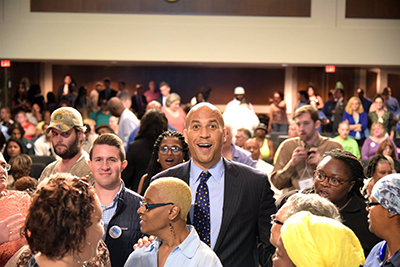 Senator Cory Booker (D-NJ) chats with attendees at the NJ Hill Day
Senators Menendez and Booker both assured the group of their commitment to expand funding for affordable housing programs. Senator Menendez shared his personal experience growing up in a tenement in northern New Jersey, which drives his commitment to expanding fair housing for all. Senator Booker spoke of his early years directing a legal aid organization to assist families with fair housing issues and how that experience influences his strong support for increasing affordable housing.
The "No Housing Cuts" policy priorities include:
Supporting a $414 million increase to $2.644B for HUD's McKinney-Vento Homeless Assistance program;
Restoring funding for the HOME Investment Partnerships program (HOME) to $1.2 billion;
Supporting $20.9 billion for Housing Choice vouchers to help reduce family homelessness;
Ensuring adequate funding for the national Housing Trust Fund (HTF);
Expanding the Low Income Housing Tax Credit (LIHTC); and
Pushing for stricter lead standards in affordable housing.
With HCDNNJ and Monarch Housing Associates' collaboration and the support of organizations and advocates from across the state, NJ Hill Day provided New Jerseyans with the opportunity to express to their Congressional delegations the importance of affordable housing and the need for sustained federal funding.
"New Jersey has an affordable homes crisis that is causing more families to double up, and many are falling through the cracks and becoming homeless," said Richard W. Brown, CEO of Monarch Housing Associates. "It is time to have No Housing Cuts to make sure everyone has a safe, affordable place to call home."
"New Jersey's economy has languished after Sandy and the economic downturn. Too many New Jersey residents struggle to pay their rent or mortgage," said Staci Berger, president and CEO of the HCDNNJ. "We need our representatives in Congress to put resources into making more homes affordable for more people. Now is not the time to cut housing resources in their budgets."
For more information about NJ Hill Day 2016, contact Arnold Cohen, senior policy coordinator at HCDNNJ, at [email protected], or Richard Brown, CEO of Monarch Housing Associates, at [email protected].
For a description of the NJ Hill Day 2016, see Kate Kelly's post on the Monarch Housing Associates blog.