Low income renters and advocates in Oregon launched the #JustCauseBecause campaign on September 22, in conjunction with the National Renter's Day of Action. #JustCauseBecause is a statewide effort to pass legislation that will bring an end to increasingly prevalent no-cause evictions. The campaign is also working toward a repeal of Oregon's ban on local rent stabilization ordinances. The rally took place at the State Capitol in Salem and was followed by a hearing of the House Committee on Human Services and Housing at which advocates and community leaders offered testimony to highlight the injustice of no-cause evictions and make the case for legislative change. #JustCauseBecause is led by Community Alliance of Tenants (CAT), an NLIHC member, and Service Employees International Union (SEIU) of Oregon. Oregon Opportunity Network and the Oregon Housing Alliance, both NLIHC state partners, participate on the campaign's steering committee and provided testimony at the hearing.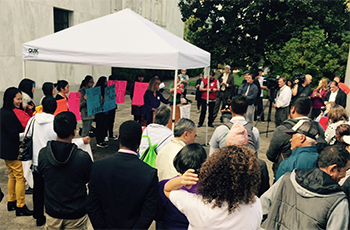 State Representative Alissa Keny-Guyer (D) addresses advocates at the #JustCauseBecause campaign launch rally.
The campaign launch rally was attended by approximately 100 advocates and included the personal stories of residents who have had to leave their homes due to no-cause evictions or large rent increases. The rally set the tone for a successful hearing that involved testimony from a broad range of interests including service providers, affordable housing developers, labor groups, and impacted renters.
Current Oregon law allows for landlords to decline renewal of a renter's lease, including month-to-month agreements, regardless of how long a household has lived in that home, paid rent on time, and complied with all the terms of their lease. The #JustCauseBecause campaign proposal would allow evictions only for violations of the rental contract or limited "no-fault" circumstances such as a landlord moving into a unit they own. The campaign also proposes that communities have discretion on limiting the rate of rent increases. Testimony at the hearing referred to residents who have had rent increases of as much as 350%, which in practice amounts to a no-cause eviction because no renter can be reasonably expected to absorb such an abrupt increase in expenses. Landlords must currently provide 90-days of notice prior to rent increases. At the rally, 15-year-old Cinthya Guitierrez shared her personal perspective about the disruptive impact such a notice can have on families: "I should be concentrating on school instead of thinking where we're gonna end up after the 90 days."
#JustCauseBecause has attracted a key supporter in House Speaker Tina Kotek (D), who announced her support at Oregon Opportunity Network's annual gala event on September 12. Ms. Kotek emphasized the dire urgency for solutions but forecast that there would be significant opposition to the proposal from the landlord and developer community.
Because the Oregon 2017 legislative session does not begin until February, no specific legislation has yet been introduced. The campaign is busy at work to educate legislators about their proposal and to gain supporters on key committees.
Katrina Holland, interim executive director of CAT, emphasized in her testimony the importance of stability for families and neighborhoods. "Entire buildings are being displaced by no-cause evictions," she said. "Communities are being uprooted from where they live and told to leave without cause."
Oregon Opportunity Network Executive Director Jerome Brooks addressed the committee as a representative of the nonprofit development community. "Oregon Opportunity Network is proud to support the Just Cause campaign," he said. "Many of our nonprofit housing members are themselves landlords, operating apartment buildings in communities across the state. We know that fair, balanced landlord-tenant policies are essential to support housing security and stability for folks with low incomes."
For more information about the #JustCauseBecause campaign, contact Neighborhood Partnerships Deputy Director for Policy and Communications Alison McIntosh at [email protected] or Oregon Opportunity Network Policy Director Ruth Atkins at [email protected].
The campaign website for #JustCauseBecause is at: http://oregoncat.org/justcause/
A Storify article illustrating tweets from the campaign launch rally is at: http://bit.ly/2cXFoqh