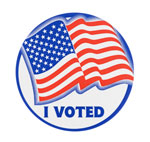 Election Day 2016 is right around the corner, on November 8, and early voting has already begun in many states. In addition to the presidential election, there are elections for 34 senators, 12 governors, and all of the U.S. House of Representatives, as well as hundreds of state and local offices. And voters in eight states – California, Maryland, Michigan, North Carolina, Oregon, Rhode Island, Washington, and Virginia – will weigh in on ballot measures related to affordable housing.
NLIHC urges all housing and community development nonprofits to help "get out the vote," particularly among the low income people you serve.  In the 2014 elections, 70% of homeowners voted, but just 51% of renters and 26% of people with incomes at or below $20,000 a year voted.  Elected officials champion legislation that they know their voters care about. Lower income renter households need to vote to get policy makers to address the affordable housing crisis in America.   
NLIHC provides a wide array of "Voterization" information, resources, and tools to nonprofits to help them register, educate, and mobilize voters.  Increasing the number of renters and allies registered to vote, providing voters with information about candidates' positions on housing issues, and getting out the vote before and on Election Day are activities all nonprofits can and should engage in, as long as those activities are strictly nonpartisan. Nonprofits can help residents exercise their power at the ballot box, voting people into office who understand the severity of America's affordable housing crisis and promise to work toward positive solutions, and then holding them to those commitments after Election Day.
A copy of NLIHC's "Mobilization: Get Out the Vote" PowerPoint slides, originally presented in a webinar on September 15, is available at: http://bit.ly/2eN9ISh.  The slides provide background on all of NLIHC's "Voterization" resources and then cover best practices related to using voter lists, phone banking and call-scripts, early voting and voting by mail, Election Day visibility, getting people to the polls, and combating voter suppression.
We also encourage you to check out the resources provided by Nonprofit Vote, which "partners with America's nonprofits to help the people they serve participate and vote."  Nonprofit Vote is the largest source of nonpartisan resources to help nonprofits integrate voter engagement into their ongoing activities and services. The website is at: www.nonprofitvote.org