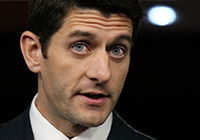 House Speaker Paul Ryan (R-WI) will release tomorrow the House Republicans' policy proposals for combatting poverty in America. In February, Speaker Ryan tasked House Republican leaders to develop a "bold, pro-growth agenda" to "strengthen our safety net and reform educational programs to make them more effective and accountable, help people move from welfare to work, and empower productive lives."
Advocates have tried to glean what will be included in the plan based on Speaker Ryan's past policy proposals on the issue. Prior to serving as Speaker, Mr. Ryan released a broad anti-poverty plan while chairing the House Committee on Budget. That plan proposed to consolidate a number of means-tested anti-poverty programs, including the major federal housing programs, into a pilot block grant program called "Opportunity Grants." The pilot would have been carried out in a limited number of states, affording them great flexibility in deciding how to use federal anti-poverty funds.
The plan would have consolidated the Housing Choice Voucher program, Public Housing Capital and Operating Funds, the Section 8 Project-based Rental Assistance program, and Rural Development's Section 521 Rental Assistance program. Related programs subject to consolidation into Opportunity Grants included the Community Development Block Grant program, the Weatherization Assistance Program, and the Low Income Home Energy Assistance Program. The plan also would have consolidated a number of programs outside of housing and community development, including the Supplemental Nutrition Assistance Program (SNAP, or food stamps), the Temporary Assistance for Needy Families (TANF) program, the Child Care and Development Fund, and the Workforce Investment Act (WIA) Adult and Dislocated Worker Program.
NLIHC will release a statement in response to Speaker Ryan's anti-poverty agenda, as well as an in-depth analysis of the proposals and their impact on low income people.