More than 450 affordable housing advocates and providers, resident leaders, researchers, and policy makers attended the NLIHC 2018 Housing Policy Forum: Building the Movement, which took place in Washington, DC on March 19-21. A broad cross-section of NLIHC members and partners engaged with policy makers, experts, and one another, participated in more than a dozen sessions and workshops on building the national affordable homes movement, and met with lawmakers on Capitol Hill to urge them to take action to address homelessness and housing poverty in America. Senators Cory Booker (D-NJ) and Sherrod Brown (D-OH) provided two of the keynote addresses during the Forum.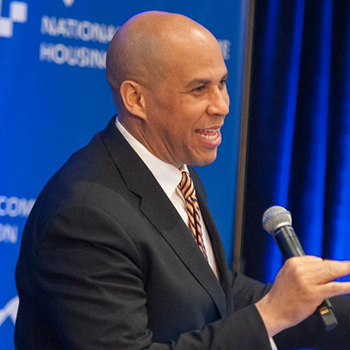 Senator Cory Booker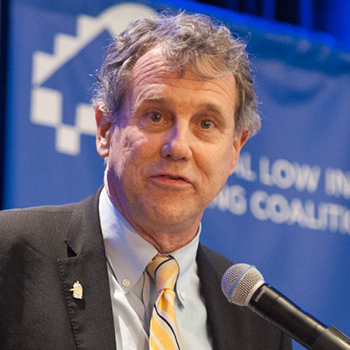 Senator Sherrod Brown
NLIHC kicked off the 2018 Policy Forum by welcoming more than 90 resident leaders to a special "Resident Session: Movement Building and You." Dr. J Otis Smith, principal of Stand By Systems II, Inc. led an interactive and inspiring session urging residents to tap into their leadership potential and to be deliberate about building teams that make positive social impact and transformative change. Parisa Norouzi, Empower DC executive director, and Nicole Vazquez, Empower DC fellow, shared how they have used leadership development and storytelling to enhance, improve, and promote the self-advocacy of low income residents in Washington, DC.  Willie "J.R." Fleming, executive director of the Chicago Anti-Eviction Campaign, and Joy Johnson, board member of the Public Housing Association of Residents (PHAR) of Charlottesville, VA, shared how, through collective action, they were able to create a Section 3 exchange program between public housing residents, resident leaders, and Housing Authority leaders from Chicago and Charlottesville. Following on the theme of resident empowerment, Danny Barber, chairperson for the Citywide Council of Presidents in New York City, shared some of the challenges residents are facing in his community and showed what is possible when residents mobilize to demand their voices are heard.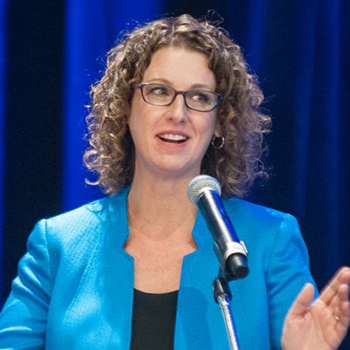 NLIHC President & CEO Diane Yentel
NLIHC President and CEO Diane Yentel initiated the broader Forum with an address about building the affordable housing movement in 2018 and beyond.  She highlighted some of the successes achieved by advocates in the past year (e.g., thwarting the president's proposals to massively cut affordable housing programs at HUD and USDA, achieving an increase in non-defense discretionary funding levels for FY18-19, and protecting the national Housing Trust Fund and the Low Income Housing Tax Credit), as well as some set-backs related to the 2017 tax bill and new threats related to fair housing and benefits cuts, among others.  She lauded the many outstanding state and local successes achieved by advocates - often led by NLIHC state partners - over the past year in California, New York, Illinois, Texas, Florida, Wisconsin, Alaska, Massachusetts, Oregon, Vermont, Maine, Washington, and beyond. "Our power is growing," she said, "through increased activism and willingness to engage, and through tremendous local success that, along the way builds new allies, new momentum and new successes." She reminded advocates that a key trigger for most successful movements is a precipitating event – a moment that takes the energy of years of sustained activism and thrusts it into public consciousness. Through dogged persistence, a "slow burn" driven by dedicated advocates leads to a "sudden spark" that crystalizes the moment and compels action. "What we do next," she said, "how we harness the energy . . . and build on this moment of extraordinary challenge and exhilarating possibility - with so much at stake - can have a tremendous impact…When the spark is lit, we'll be ready."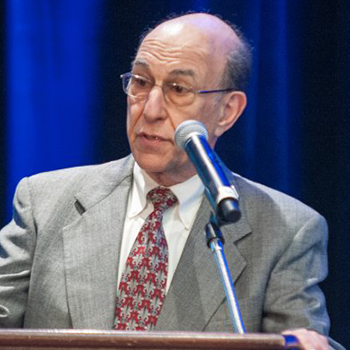 Color of Law
author Richard Rothstein
The first panel of the Forum discussed the State of Fair Housing on the 50th Anniversary of the Fair Housing Act.  Richard Rothstein, author of The Color of Law, described the history of explicit federal, state, and local government policies that resulted in housing segregation – which still persists today. He told the audience to challenge how the history of segregation is mis-taught or not taught in our schools. He also suggested that an analysis of fair housing history should be required in jurisdictions' Analyses of Impediments to fair housing. Mr. Rothstein was joined by three panelists. Lisa Rice, who will succeed Shana Smith as president and CEO of the National Fair Housing Alliance, shared a graphic, "Where You Live Matters," showing how someone's ZIP Code affects so many facets of life, like health, education, and income. "We need to help create a fair housing vision and push it forward to HUD," Ms. Rice said.  "The Affirmatively Furthering Fair Housing rule is a great opportunity to move forward." James Cadogan, director of the NAACP Legal Defense and Educational Fund's Thurgood Marshall Institute, encouraged "recapturing the public narrative" by explaining that the effects of historic government-sponsored segregation continue as "a pernicious and pervasive harm today – it is current affairs." Don Chen, director of Equitable Development at the Ford Foundation, urged housers with differing priorities to come together toward a common set of fair housing goals. He suggested correcting the "fake history" around segregation by engaging children in learning about the fair housing history in their communities.
In a workshop on "Making Housing an Issue with the Media," Kriston Capps, staff writer from CityLab, Laura Kusisto, reporter from the Wall Street Journal, Joseph Lawler, reporter from the Washington Examiner, and Christina Rosales, communications director from NLIHC state partner Texas Housers, addressed a packed room of over 100 attendees. The experts addressed a series of questions from the audience including how to spark engagement around housing poverty and homelessness, how to increase coverage around local events, and how to break through the noise of false information and the sense of hopelessness. Christina Rosales shared the tip of pitching stories to the photo desk at a news outlet. "A reporter may not be interested or have the time to cover a story but the photo desk is always looking for good photos," she said. When asked how to foster relationships with reporters and become a resource, Laura Kusisto reminded the audience that reporters are human and would like to develop reciprocal relationships. "Reach out to a reporter and share information on a potential story as soon as it becomes available," said Ms. Kusisto. The panel agreed that persistence and passion in a story is the best way to earn media hits. They suggested not giving up on the first "no" from a reporter and urged advocates to produce multiple resources on the issue that can be circulated through different platforms numerous times.
A workshop titled "Queering the Housing Movement: Breaking Down the LGBTQ and Housing Justice Intersection" featured Gregory Lewis and Kahlib Barton from True Colors Fund; Kelly Kent from Sage USA, and Taissa Morimoto from National LGBTQ Task Force. The session emphasized that despite growing public visibility of and acceptance toward LGBTQ people in America, disproportionate rates of youth homelessness, displacement, housing discrimination, and a lack of cultural competency by service providers continue to frame everyday life for many LGBTQ people. Mr. Lewis and Mr. Barton shared True Colors Fund research that LGBTQ youth are 120% more likely than non-LGBTQ youth to experience homelessness.  Mr. Lewis noted that for the many LGBTQ people who are also low income people of color, discrimination based on sexual orientation and gender identity may exacerbate the racism and classism they experience. When speaking of homeless service providers who have room for growth in their acceptance of LGBTQ clients, Mr. Lewis said advocates "must meet people where they're at, not where we'd like them to be." Ms. Morimoto shared that erasure of data in Point-In-Time counts and other surveys can lead to advocates and policymakers lacking a full understanding of the extent of LGBTQ youth homelessness. Mr. Kent emphasized the unique housing needs of LGBTQ elders, who may grow old without access to traditional networks of care through extended family members if they have been displaced or estranged from their families of origin at some point in their lives.
A workshop titled "Team Approach: How Housing Providers Can Support Resident Organizing" featured the work of Community Housing Partnership (CHP) in San Francisco, which has long been at the forefront of effectively supporting the organizing efforts of their residents. Avni Desai, CHP's public policy manager, presented on how CHP's successful organizing model can be used by other housing organizations. Ms. Desai described how CHP's Community Organizing and Resident Engagement effort builds inclusion and provides a means for residents to participate in policy discussions at the state, local, and federal levels. Ms. Desai showcased the role of residents in a recent victory to ban questions about criminal records on housing applications in San Francisco and in the ongoing Debt Free San Francisco campaign to eliminate court debt for low income people.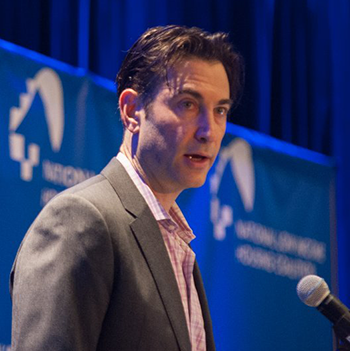 High-Risers: Cabrini Green and the Fate of American Public Housing
author Ben Austen
The second day of the Forum began with a discussion on "The Fate of Public Housing" by Ben Austen, the author of the riveting book High-Risers: Cabrini Green and the Fate of American Public Housing. Mr. Austen shared his reflections about residents of the Cabrini Green public housing complex in Chicago who struggled to make a home for their families as fortunes changed and the "towers" were eventually demolished. He described how public housing became to be erroneously presented widely as a "monstrous threat," and how the "nightmare image" led to bad policy decisions.  "There is love here," Delores Wilson, one of the residents featured in High Risers said in referring to her public housing community. Mr. Austen talked about how displaced public housing residents have often been blamed for violence, which studies have shown is not true. "Housing saves lives," Mr. Austen said, calling for a much greater national commitment to affordable housing.  He quoted President Franklin Roosevelt: "The test of our progress is not whether we add more to the abundance of those who have much; it is whether we provide enough for those who have little." 
Nonprofit VOTE's Brian Miller moderated a panel of housing advocates who have recently been effectively engaging on elections in a workshop titled "Housing Is Built with Ballots: Non-Partisan Voter Engagement Leading up to the 2018 Elections." Sim Wimbush from the Virginia Housing Alliance provided an overview of the Alliance's recent Campaign for Housing and Civic Engagement that produced strong results in Virginia's 2017 state legislative elections. Eric Hufnagel from the Michigan Coalition Against Homelessness provided tips on conducting candidate position surveys on housing and homelessness. Barb Harris from Minneapolis Highrise Representative Council shared thoughts on how voter registration and voter mobilization can be done effectively within public housing buildings. To close, Rachel Robinson from Neighbors United for Progress in Austin, TX, discussed how voter engagement does not need to be an expansive effort, but rather can be a complementary feature of regular organizing activities. The workshop was a part of NLIHC's ongoing efforts to encourage housing organizations to engage in elections through the Our Homes, Our Votes campaign. 
NLIHC Senior Policy Director Sarah Mickelson moderated a workshop, "Hill Insider Panel," with former Congressional staffers from both sides of the aisle. The panelists shared their candid perspectives on President Trump's first year in office and their predictions for the coming year and what they may mean for federal affordable housing policies and investments. Jennifer Fogel-Bublick, partner with Capitol Counsel and former staffer for the Senate Banking Committee, spoke about the Trump administration's proposal to cut housing benefits by increasing rents on low income families and imposing work requirements. Artie Mandel, state affairs manager for Los Angeles Mayor Eric Garcetti and former advisor to Senator Maria Cantwell (D-WA), discussed the passage of the recent Republican-supported tax cuts and opportunities to expand the Low Income Housing Tax Credit in the coming year. Jennifer Debes Bang, principal with Capitol Counsel and former House Appropriations Committee staffer, explained how changes on Committee leadership and midterm elections could impact future spending bills.
After a presentation of the NLIHC 2018 Organizing Awards (see separate article in this week's Memo), two representatives from the winning organizations joined a panel of previous winners in a session on "Successful Local Organizing and the 2018 Housing Week of Action." Randy Dillard from Community Action for Safe Apartments in New York City told a personal story about successfully fighting his own eviction with an attorney. His story elevated the impact of Right to Counsel NYC Coalition's victory to ensure an attorney is available for low income renters facing eviction in New York City, the first ordinance of its kind in the U.S. Kalila Jackson from the Metropolitan St. Louis Equal Housing Opportunity Council shared her perspectives on launching a significant policy campaign without having previously worked as an organizer or campaigner. Ms. Jackson and other legal services advocates joined with Empower Missouri to develop a groundswell of support for an ordinance to criminalize lockout evictions in the city. Steve Glaude from Coalition for Nonprofit Housing and Economic Development (CNHED) spoke about CNHED's "Housing for All" campaign that secured $100 million in the District of Columbia's Housing Production Trust Fund in five of the past six years.  Sharon Cornu spoke about her work with the Non-Profit Housing Association of Northern California who, along with East Bay Housing Organizations and others, won more than $2 billion in new affordable housing funding at the ballot box in November, 2016. Ms. Cornu discussed the power of residents who turned out for the vote and provided the deciding margin. The session then transitioned to discuss the "Our Homes, Our Voices" National Housing Week of Action taking place May 1-8. The session moderator, Rachael Myers of the Washington Low Income Housing Alliance, turned to Ms. Cornu and Mr. Glaude to highlight their experiences and lessons learned from participating in Week of Action in 2017.
Mark Horvath, founder of Invisible People, was the guest speaker for a breakout session on "Harnessing the Power of Storytelling for Advocacy." In this session, advocates explored how stories can help shape the housing policy conversation in meaningful ways. Mr. Horvath shared how advocates can use video and social media to change misperceptions about homelessness. He cited a study from the London School of Business showing that statistics alone have a 5-10% rate of retention; statistics with a photo have a 25% rate of retention; and statistics with a story have a 65-70% rate of retention. Effective story telling combined with visually compelling info-graphics are essential to effective advocacy.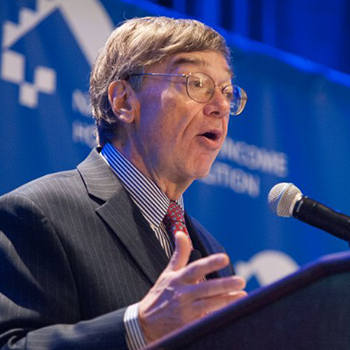 Charlie Cook of the
Cook Political Report
Charlie Cook, editor and publisher of the Cook Political Report and columnist for the National Journal, spoke about "The 2018 Political and Legislative Landscape." Mr. Cook said that there is a clear Democratic "wave" that has been demonstrated in state and national elections since the fall of 2016, and the question is whether the Republican "sea wall" will be able to withstand that wave in the 2018 mid-terms.  After providing a detailed analysis of the political landscape and recent polling, Mr. Cook said he believed there was a 60-65% chance the Democrats will regain control of the U.S. House of Representatives and a similar percentage chance the Republicans will maintain control of the U.S. Senate. 
The Forum featured the official launch of a new national "Opportunity Starts at Home" campaign, which seeks to mobilize powerful new constituencies beyond housing to ensure that people with the lowest incomes have access to safe, decent, affordable housing in neighborhoods where everyone has equitable opportunities to thrive. With financial support from the Funders for Housing and Opportunity, NLIHC initiated this new effort together with the Center on Budget and Policy Priorities, Children's HealthWatch, Make Room, and the National Alliance to End Homelessness, and with a steering committee that includes Catholic Charities USA, Children's Defense Fund, Community Catalyst, Food Research and Action Center, NAACP, National Alliance on Mental Illness, National Association of Community Health Centers, National Education Association, and UnidosUS.  Senior leaders from each steering committee organization were present at the launch event, along with the campaign's seven state partners.  Senator Sherrod Brown (D-OH) helped kick off the launch event and spoke about the intersections of affordable housing and many other sectors. (See more on Mr. Brown's remarks below.)  The session unveiled a short video about the campaign and a new campaign website (www.opportunityhome.org). Participants were urged to follow the campaign's Twitter handle: @OppStartsatHome
In a workshop titled "New Directions in Housing Research," Edward Goetz, director of the University of Minnesota's Center for Urban and Regional Affairs, discussed capturing a portion of property taxes on rising property values (i.e., value capture) as a stream of funding for affordable housing, the under-studied topic of racially segregated and concentrated areas of affluence, and the need to better understand the differences between communities that reach and do not reach their fair-share of affordable housing. Vincent Reina, assistant professor at the University of Pennsylvania, discussed the number of subsidized rental homes at risk of losing their affordability and our limited resources to both preserve their affordability and subsidize new housing at the same time. He also described the incremental success of Small Area Fair Market Rents (FMRs) at helping voucher holders access higher-cost neighborhoods, highlighting the need to consider local impacts rather than the national average impact of Small Area FMRs. Shannon Van Zandt, fellow at Texas A & M's Center for Housing and Urban Development, discussed the challenges that poor and minority households disproportionately face during and after natural disasters and the need for more research regarding the long-term recovery of affordable rental housing after disaster. Allison Bovell-Ammon, deputy director for policy strategy at Children's HealthWatch, discussed the positive impact of decent, stable housing on children's health outcomes and a new project that includes housing as a prescription for improved children's health.
During the workshop focused on "Addressing Housing Barriers for People with Criminal Records," local advocates shared how they worked with various stakeholders to enact change in their communities, the challenges they faced, and what work they are doing now to ensure housing providers comply with these new policies. People with criminal records face significant barriers to finding decent affordable homes, with many experiencing homelessness or recidivating as a result. To address this problem, advocates in Seattle and New Orleans successfully campaigned to reform local policies impacting people with criminal records. Panelists Alex Bergstrom of the Institutions Project at Columbia Legal Services and Susan Mason of What's Next Washington spoke about their successful efforts to prevent landlords from refusing to accept those with criminal backgrounds during the rental application process. Latoya Lewis of STAND with Dignity and Bruce Reilly of Voice of the Experienced discussed their work in reforming the Housing Authority of New Orleans's screening policy to ensure people with criminal records have access to an affordable home.
A final breakout session, "Running for Political Office," took inspiration from the thousands of first-time candidates who ran for public office in 2017 in the wake of the 2016 presidential election and the important perspectives resident leaders, housing developers, organizers, and researchers have to offer as potential elected officials. NLIHC Board Secretary and Member of the Lincoln Resident Council Martha Washington moderated an intimate discussion with three recent candidates for office. Sheila Crowley, former NLIHC president and CEO, spoke about the lessons learned from her 2017 campaign for Virginia state delegate. Anne Mavity, executive director of the Minnesota Housing Partnership and St. Louis Park council member, and Washington State Representative Nicole Macri spoke about strategies for advancing affordable housing policies while in office.