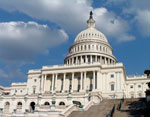 Join NLIHC and the Clean Budget Coalition for a Twitter storm on November 17 at 2:00 pm ET to tell Congress to pass clean FY17 spending bills and to reject harmful policy riders that threaten to derail a final bill and put vital investments in affordable housing at risk.
If Congress does not approve full-year FY17 spending bills for the Departments of Housing and Urban Development (HUD) and Agriculture (USDA) and instead passes a long-term stopgap spending measure known as a Continuing Resolution (CR), these agencies will see a steep shortfall in funding. A long-term CR would result in deep cuts to critical housing programs that could cause thousands of families and children to lose access to stable housing, putting them at increased risk of homelessness.
For more information on how long-term CR will negatively impact affordable housing programs, go to: http://bit.ly/2aK61e1
Hashtags for the Twitter storm can include #noriders #cleanbudget #doyourjob #getitdone #finishthebudget, #omnibus, and #thankful. You can also use the following sample tweets:
1000s of low income families may lose access to #affordablehousing unless #Congress passes a #cleanbudget ASAP.
Without a #cleanbudget, Congress would put vital investments in #affordablehousing at risk.
The #affordablehousing crisis is reaching new heights. This is not the time to put vital investments at risk. Pass a #cleanbudget.
America is stronger when families have #affordablehousing. Tell Congress to pass a #cleanbudget ASAP to protect vital investments.